Quick, simple, safe and secure, building magnetic locks are an instant hit with kids of any age. All the items you need to build your own magnetic lock are easy to find in your junk drawer. If you don't have free magnets from the local pizza joint or need a weightier magnet for your project, you can find what you need at most dollar stores or big box home improvement chains. You can build a box to keep special trinkets, papers and treasures safe, build a screen door for pets that quietly latches or secure a secret door on a tiny doll house or journal safe.
Magnetic locks are ideal DIY projects for young family members and are a fun and easy build. Dog and cat owners can also benefit from making magnet locks for food-storage boxes as well as indoor/outdoor flaps that can be secured when not in use.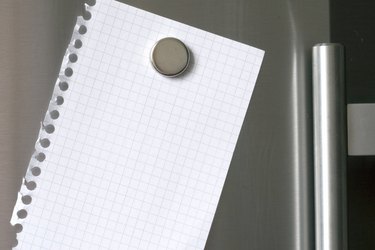 Clever and Cute
If you are creating a small project, such as a quick close clasp on a jewel box, you will only need two bits of magnet to hold it closed. Refrigerator magnets you receive in the mail for restaurants or a doctor's office can be useful for these small projects. Your magnetic lock will hold best with the correct weight. If your material is thin, you need not worry about the weight. If your material is thick, you'll want to use a denser material to keep it all in good alignment. You can find thicker magnets online or at big box home improvement stores, such as Lowe's and Home Depot.
What Makes It Work
A magnet has a strong magnetic field that attracts its opposite. Every magnet has two poles, north and south. If you put two magnets together, you'll discover two things: they are either attracted to each other or repel away from one another. This is common magnetism, and this is what makes your lock work.
How to Make the Lock
For most projects, purchase ceramic disc magnets from your local hardware store. If you are working with a wood or a storage box, align and attach the magnets to the lid and bottom support so that the box is secure when the lid closes. It should only take a a very gentle push or a pull to disconnect the magnets.
If working with a door frame for pets or other small animals such as hamsters, place a screen or other lightweight material on your frame and attach the magnets facing each other. Once the magnets are aligned, hang the lightweight screening or frame in the doorway. Clean the magnets regularly to keep their connection strong.