There are few things more relaxing than sitting in the balmy ambiance of a sauna, letting the dry heat soak all of the impurities out of your pores. Sauna users can lose up to a pint of sweat each use, and the purifying effects of saunas have been known to remedy ailments like pain, asthma and psoriasis. Luckily, you don't need to regularly shell out big bucks for a spa day. You can bring the benefits of a sauna right to your home.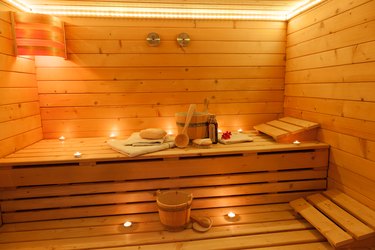 Where Can You Build Your Sauna?
Home saunas can be situated outside your house as a separate out building or converted shed, or inside your home. You can repurpose a spare room into a spa or build one into your bathroom. Saunas can provide just steam or can incorporate a shower, steam bath and/or massage components. While in-home saunas are pretty much limited to whatever the shape of the room is, the possibilities are limitless with outdoor saunas. Saunas can be shaped like little sheds or houses, barrel-shaped or even attached to a bike wheel for added mobility. You can use a variety of power sources when building your sauna, but note that not all power sources are appropriate for all sauna locations. Saunas can be powered by wood, gas or radiate heat in a manner similar to the sun a type known as an infrared sauna (the latter best built outside to make them more environmentally friendly).
What Will You Need to Build a Sauna?
Once you decide on whether to make an indoor or outdoor sauna, the next step is preparing the construction area. If you're building your sauna indoors you'll need to remove all of the drywall in the room and make sure you have an impenetrable or non-permeable floor made of either tile or cement. For an outdoor sauna, you'll also need some type of solid foundation on which you'll build a frame out of cedar wood. This structure must have points for ventilation in the floor, ceiling and above the heater.
Wiring is necessary to install lights in the sauna and you'll also need a drain to direct moisture out of the room. You should hire an electrician as well as a plumber if you don't have experience in those areas.
Temperature regulation is also crucial when building a sauna, both as a way to manage operating costs and to ensure that your sauna doesn't infringe upon the rest of your home being a comfortable temperature. Because heat is necessary for saunas, you will want to have foil installed on all walls for insulation. This retains heat so you don't have to use more than you need. Sauna rocks and a central heater are also part of controlling the interior temperature of your sauna and drying any moisture. Vapor absorbers can prevent humidity from escaping the sauna and being absorbed into the rest of your house.
Installing cedar (or other soft-wood) paneling, benches, trim, flooring and a door should be among your last steps. Cedar paneling also helps keep your sauna dry in between uses. The door should be flush with the sauna opening to trap heat and moisture. Benches should be sturdy and able to support the weight of whoever is using them. Flooring can be added anywhere in your sauna, and many sauna building kits feature removable floorboards that offer users and builders the flexibility for cleaning.
Much of this advice is also the same for outdoor saunas. Of course, however, you will need to prioritize the structure of the sauna first so that it has a solid frame and strong foundation.
Other Things to Remember
While building a sauna involves a lot of steps, it can be an easy build for a savvy DIYer if you know what you're doing. It's worth remembering that saunas are expensive. Easy building kits start at approximately $2,000 and the more customized your sauna is, the more it will cost. Also, a sauna is meant for relaxation so it is best to build one in an area where there isn't a lot of foot traffic or noise. You should also consider your tolerance for heat when deciding between an infrared and traditional sauna: Infrared saunas typically emit a lower temperature.
---
Jorie is a Chicago-based writer with experience writing about careers, the arts and natural hair. Jorie's career writing experience includes writing for Lioness Magazine, a website for female entrepreneurs and writing the "Career Advice" article for the June 2016 issue of Cosmopolitan Magazine.