Moving can be a hard enough process on its own but imagine moving everything into your space and the worst thing happens in the world: You can't fit your bed through the door opening. Sometimes glaringly obvious things like measuring to see if your mattress will fit through the door don't seem necessary after a long process of shuffling your entire life to a new place. Whether you're just moving in or upgraded your bed before taking king-, queen- or full-size box spring measurements, there are ways to fit a queen box spring through a door opening.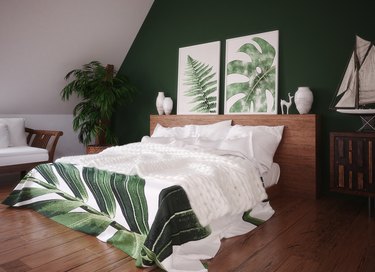 How to Fit the Box Spring Through the Door
There are many different situations when it comes to trying to fit a box spring through a door, especially if you don't know what size box spring you have or how to measure mattress size. Many articles recommend moving walls, cutting your box spring or even breaking down barriers. But if you don't have the time or patience to do that, there are simpler ways. Before you buy new furniture, make sure to measure the space you're trying to fit the furniture in, as well as the doors you're trying to get the furniture through. You can prevent a situation happening before you even try to get the furniture through the door. It is recommended that you should measure hallways or any staircases if the furniture has to go upstairs. You don't want any surprises when trying to figure out how to get a queen box spring upstairs.
Take the Door Off of the Frame
If you need extra space, sometimes it could be the actual door frame that is causing the issue. If you need extra space to get the box spring through the door, try taking the door out of its hinges. Most door hinges are attached with small nails, so all of have to do is unscrew the nails. Once you extract the nails, take the door off of the hinges, then try and bring the box spring in through the door. After you get your full, queen or king size box spring through the door, you can easily put the door frame back on by screwing the screws back on. Just make sure to put the screws in a place where you won't misplace them. The worst thing is getting your initial task accomplished and then causing a whole other issue.
Ask Movers How to Get a Queen Box Spring Upstairs
If you are having a moving company move your box spring, ask them what is the best option — that's what you hired them for after all. Most movers know tips and tricks to move, dismantle or assemble pieces that you have no idea how to manage. If they're relocating your things, then they will be able to handle the situation without you damaging anything in the process.
---
Allanah Dykes is a freelance writer and her work has been featured on Elite Daily, Levo League, Popsugar, Complex, Gurl, The Kitchn, HelloGiggles, Revelist, and Food 52.