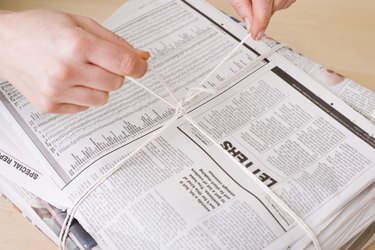 Paper is one product that can be recycled numerous times not just to save the trees but to also reduce the carbon footprint that results from its decomposition in landfills. Because paper can be recycled five to seven times before its fibers become too short to reuse, it can be used in manufacturing a multitude of products, ranging from disposable household items to copy paper to art. As a consumer, you can save money by purchasing recycled paper products as well as reusing your own discarded paper products in your home and garden.
Recycled paper products are a valuable resource to save money and lower your carbon footprint. From newspapers to art paper to kitty litter, recycled paper is an eco-friendly choice for consumers.
Sourcing Paper for Recycling
Recycled paper is obtained from three primary sources: mill broke, preconsumer, and postconsumer. Mill broke paper includes the paper scraps that never leave the paper mill. Instead, these bits and pieces are gathered, shredded, mixed with water, and broken down into pulp, which is recycled into "new" recycled paper.
Preconsumer paper includes paper scraps from businesses and manufacturers outside of the paper industry. This includes the paper and trimmings left over from newsprint rolls, book binderies, envelope manufacturers, box manufacturers, and old and/or outdated paper, paperboard, and cardboard stocks that were recycled rather than used.
Postconsumer paper includes all types of paper, paperboard, and cardboard that were used in offices, homes, and stores. These include copy paper, mail and junk mail, magazines, newspapers, cereal boxes, cardboard boxes, and other paper items that are sorted, pulped, and reused to make new recycled paper products. In some municipalities, you can put clean (not contaminated by food or grease/oil) paper items into the recycle bin, but others only accept clean cardboard.
Purchasing for Home and Office
Recycled products for home use are available locally as well as online. Many of these money-saving products are also applicable for work-at-home and office use as well. During the recycling process, the pulp is sterilized before being made into new paper products, so it is safe for use as:
Coffee filters.
Disposable diapers.
Egg cartons.
Napkins.
Newspapers and magazines.
Paper plates, bowls, and cups.
Stationery.
Tissues.
Toilet paper.
Some of these products can be recycled again; however, those contaminated by body fluids and food are usually disposed of in the toilet or trash. When in doubt about an item, such as used paper plates or the pizza box from your favorite restaurant, check with your local refuse company.
Recycling for Retail, Restaurants, and Construction
In addition to consumer goods, recycled paper, paperboard, and cardboard are recycled into a number of uses in retail, food service, and construction settings. From reusing paperboard to make the paper backing for your roofing shingles to cardboard to make paper bags and new cardboard boxes, recycled paper products can be found in:
Building insulation.
Cardboard.
Paperboard.
Paper bags.
Packing materials.
Papercrete and hybrid adobe.
Pizza boxes.
Paper backing on roof shingles.
Plasterboard.
Shoeboxes.
Creating Art With Recycled Paper
Paper scraps and recycled paper have been used in art for many years. Whether you're using recycled art papers or making a new piece of art, the creative process is limited only by your imagination:
Beads.
Collage.
Construction paper.

Handmade paper.
Greeting cards.
Jewelry.
Newsprint for sketching.
Vases.
Watercolor paper.
Reusing Paper in the Garden
While sending paper to the landfill is not an eco-friendly action, recycling shredded and scrap paper into the garden is another matter. Whether you're purchasing manufactured paper products or reusing your own shredded paper and/or other food-contaminated items, you can reutilize paper products for:
Compost.
Livestock bedding.
Mulch.
Plant labels.
Seed bombs.
Weed blocking.
While paper-based litter used in a cat's litter box cannot be used in the garden or compost pile, livestock bedding and paper-based items from a rabbit cage or chicken coop can all be added to your compost pile to decompose into organic matter to nourish your soil.