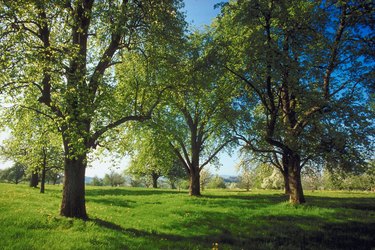 If you want to grow a fruit tree in Minnesota, your first should select the right tree. A fruit tree planted outside of its preferred environment will struggle, no matter how meticulously you care for it. Selecting a fruit tree may seem difficult. But horticulturists and experts at local universities have tested fruit trees, and have prepared a list of trees hardy enough to withstand the harsh Minnesota climate.
Apricots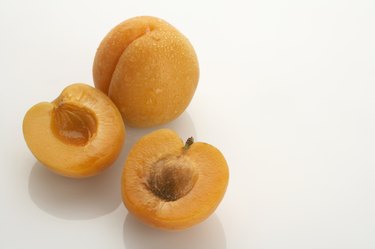 Apricots are a small ornamental tree that offers an early spring blossom and plenty of golden yellow fruit afterward. The University of Minnesota lists two cultivars of apricot as hardy fruit trees: Moongold and Sungold. Moongold has a slightly larger, golden-tone fruit, while Sungold provides a mild-flavored fruit with a red blush.
Plums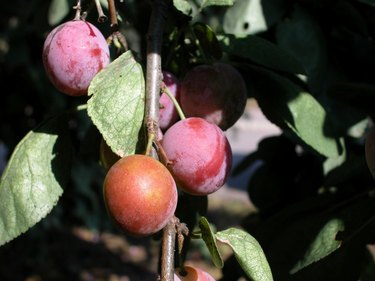 The University of Minnesota lists several varieties of plum trees that it considers hardy. They are Alderman, La Crescent, Pipestone, Superior and Underwood. The Alderman plum is noted both for its ornamental value and for the magnificent burgundy-red fruit it produces. La Crescent produces a high-quality yellow plum that looks somewhat like an apricot. In addition to producing high-quality fruit, the La Crescent plum is a vigorous grower. The Pipestone plum produces a large red plum, and is perhaps best suited for drier areas of the state. If you live in the southern part of the state, you may want to experiment with a Superior. This variety, although not particularly cold hardy, produces large quantities of dark-red plums. The Underwood plum provides gardeners in the northern parts of the state with a hardy and vigorously growing tree that will produce a medium to large red fruit.
Pears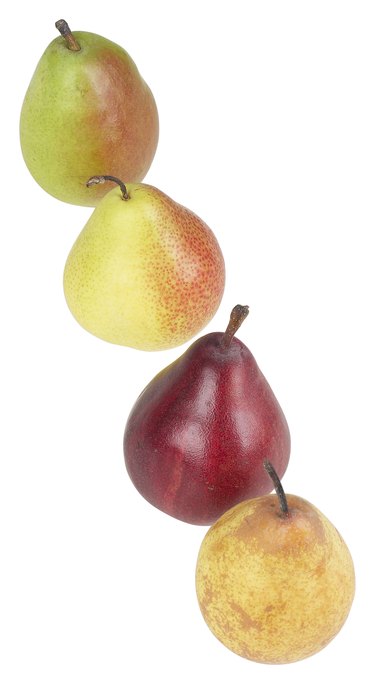 If you are interested in growing a pear tree, there are three varieties that you should consider. The Golden Spice pear is a hardy variety that produces a small, medium yellow fruit that is tart and better-suited for canning and spicing than for eating raw. The Summercrisp pear produces a large fruit that is both crisp and sweet. The Parker pear produces a medium-sized, yellowish-bronze fruit. This variety is a vigorous upright grower, but it is also susceptible to a bacterial infection known as fire blight if you care for it incorrectly.
Cherries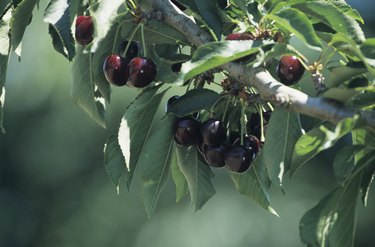 Two varieties of cherry trees are particularly hardy, according to the University of Minnesota. The North Star cherry is a dwarf cherry, which means that it will only grow to about 10 feet high at maturity. North Star cherries are heavy producers of fruit for pies and other baked goods. The Meteor cherry is a semi-dwarf (around 14 feet high at maturity) that is particularly hardy and vigorous.