Synthetic resin wicker captures the classic look of natural wicker in a durable, outdoor-friendly version. But even synthetic resin wicker may fade, become dirty or discolor over time, especially if the furniture stays outdoors. Freshen up that faux wicker with a spray paint specifically designed for plastics and resins. Regular paints and spray paints don't adhere to resin very well, if at all.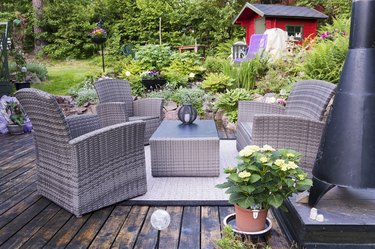 Clean The Resin
Whether your resin wicker furniture is brand-new or has several sunny seasons under its belt, a thorough cleaning helps the paint stick better. If you're working with large items, hose off each piece with the jet spray setting to knock debris out of the textured resin surface.
Add a few squirts of a mild dish soap to a bucket of warm water. Sponge the resin with the soapy water, rinsing it again afterward. For smaller faux wicker items such as a plant pot, wash the piece in a sink or tub if it is new or fairly clean, using mild dish soap. If the item is dirty, hose it off outdoors instead.
For dirty, grungy resin wicker, use a gentle scrub brush to remove dirt from the textured surface, rinsing it off with a hose as you work. If the resin looks shiny or greasy, wipe it down with rubbing alcohol or an ammonia-based cleaner. Give everything a final rinse once you're done cleaning.
Pre-Painting Maintenance
Sometimes resin and plastic pieces have seams that stick up or burrs from sliding the chair along a paved patio. Inspect the resin wicker items thoroughly, rubbing them down with your hands to find imperfections or snags. Sand the flaws away with a fine-grit sandpaper; then wipe the dust away with a soft cloth.
If the item contains stickers or price tags, remove those with a citrus-based sticker remover or rubbing alcohol. Wipe the area down with a damp cloth. Place the item in the sun for at least a couple of hours, so it dries completely before painting.
Picking the Perfect Paint
Resin and plastic are notoriously difficult to paint if you choose the wrong type of product. Regular household paints such as latex, acrylics or even spray paint don't stick directly to these synthetic substances.
Instead, resin requires either a primer designed for plastic or a paint designed for plastic. Look for spray paint specifically designed for plastics and resins that requires no primer for the easiest painting option. Otherwise, spray the piece with a plastic spray primer before using any standard spray paint over the dry primer.
Painting Resin Wicker
An outdoor work area is the best option. Choose a calm day without a lot of wind to keep the spray paint from blowing. If you can't work outside, pick a well-ventilated space to avoid breathing in paint fumes. Set the project piece on sheets of newspaper or a plastic tarp.
Shake the spray can well; then hold the can approximately 12 inches from the project piece. Begin each blast of spray before reaching the faux wicker and end it after the end of the project piece. Go back and overlap the previous paint line slightly with each pass. Several thin coats are better than one heavy coat, as the paint may run if it is too thick.