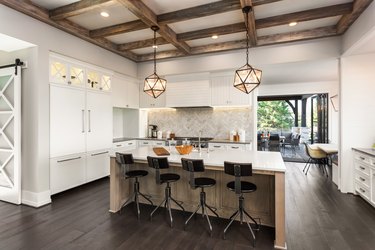 Wood floors are one of the prettiest and most durable flooring options that a home or apartment can have. Not only does wood add character, but it also adds a subtle richness that sets it apart from other flooring options. If you have wood floors or wood accents, you don't need harsh chemicals to clean them. There are many homemade wood cleaner recipes that you can choose from that are arguably better than any commercial cleaner on the market.
Homemade Wood Cleaner
For this DIY wood cleaner, all you're going to need is a spray bottle or jar, water, white vinegar and olive oil. Although white vinegar may be smelly to some, this natural wood cleaner is perfect for cleaning wood without stripping it. To use, mix 1 cup of water with 1 cup of vinegar in a spray bottle or jar.
After you combine these two ingredients, add a tablespoon of olive oil to the bottle or jar. Shake well to incorporate everything. Every time you get ready to use this mixture, you might have to shake it vigorously before using since oil, water and vinegar often separate. You can use this mixture every day or every other day, depending on your cleaning habits.
Simple Restoration Wood Cleaner
If you need a mixture for heavy-duty polishing or restoring wood, you don't have to resort to a store-bought polisher. You can make your own by mixing 1 tablespoon of vinegar with 3 tablespoons of olive oil in a jar.
Make sure these ingredients are well incorporated with one another. To apply, dip a rag into the mixture and then polish or restore the wood. A little bit of this solution goes a long way, so try not to go overboard.
Dusting Spray for Wood
If you need a homemade cleaner that will get rid of everyday dust and dirt, use this recipe for your wood surfaces: 1 cup of water, 1/2 a cup of white vinegar, 2 teaspoons of mineral oil or coconut oil, 15 drops of lemon oil, an empty spray bottle and a microfiber cloth or soft cloth. Add all of these ingredients to the spray bottle and shake vigorously until everything is well incorporated.
Cleaner for Wood Floors
If you're not a fan of the smell of white vinegar, this homemade dusting spray without vinegar recipe is for you. This mixture is perfect for cleaning up spills or tracked-in dust or dirt. You'll need 4 cups of warm water, 1 teaspoon of castile soap, 10 drops of lemon essential oil, an empty spray bottle and a mop.
Mix all of these ingredients into a spray bottle and shake well before using. Spray the solution on the wood floor and then use a mop with a soft cloth to clean your floors. If you don't have lemon essential oil, or just don't want to use it, it's optional for adding a citrus scent, so leave it out.
Wood Cleaner For Dark Wood
For this recipe, you're going to need 1/2 a cup of apple cider vinegar, extra virgin olive oil, lemon juice, lavender essential oil (optional), glycerin (optional), a spray bottle and a soft cloth. The apple cider vinegar will remove grime and hard-to-remove grease that's on the wood. The lemon juice will serve as a disinfectant for your floor, and the olive oil will moisturize and protect your floor. Pour all of the ingredients into a spray bottle, shake well and apply to the wood using a soft cloth.