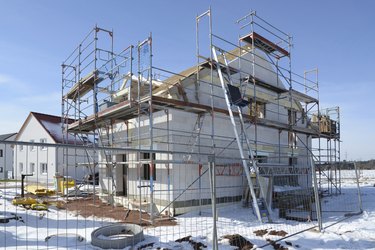 Frequently used in commercial construction applications, steel building frames were largely overlooked in residential construction for many years. This is slowly changing as homeowners and builders embrace the safety advantages and increased durability of steel framing. While steel framing does have advantages, it has some drawbacks, as well -- most notably its poor insulation ability. Steel framing also requires some special tools and know-how to construct.
Steel Durability
Perhaps the most significant benefit of steel framing is its durability. Unlike traditional wood framing, steel does not warp or expand. It is also better equipped to deal with water damage, since it does not rot and is highly resistant to fungus. Steel is also completely unappealing to termites, carpenter ants and other insects that feed on wood. In addition, steel frames are able to withstand level-9 earthquakes and wind speeds of more than 150 miles per hour.
Safety Features
The steel frame inside a building is grounded directly to the earth. This allows the entire frame of the house to act as a lightning rod, harmlessly discharging the current of a lightning strike into the ground. Steel framing also discharges currents from electrical leakage, which occur when punctured or otherwise damaged electrical wiring "leaks" electricity into the home. In addition, steel framing is not combustible and will not add fuel to a house fire, prompting many insurance companies to offer a steel frame discount on homeowner's insurance.
Energy Efficiency
Despite its many benefits, steel framing is not energy-efficient. Steel conducts heat 300 to 400 times faster than wood, reducing the insulating properties of wall insulation by 60 percent. This occurs due to a phenomenon known as thermal bridging, in which heat takes the most conductive path. The most conductive path in a steel frame home is the steel itself, and heat will move quickly from inside your home to the steel studs in the walls. In addition to leaving you cold, thermal bridging can create black staining on the cold portions of the walls. You can combat this energy loss by using extra insulation or insulation materials with a higher rating. Spacing the steel studs further apart in the walls also helps by creating fewer thermal bridges.
Special Installation
Steel frame houses were first introduced in the United States after World War II. In response to returning GIs' demand for housing, the Lustron Co. built 2,500 steel frame homes before filing for bankruptcy in 1950. Interest in metal-framing then waned but was renewed in the 1990s. The construction industry has been slow to adopt this home-building method, however, largely because of the expenses involved. Although steel housing frames allow for rapid assembly, building them does require some specialized tools and knowledge. Contractors are sometimes slow to embrace new building techniques because of the added expense of training personnel and purchasing special equipment.
---
Home is where the heart is, and Michelle frequently pens articles about ways to keep yours looking great and feeling cozy. Whether you want help organizing your closet, picking a paint color or finishing drywall, Michelle has you covered. If she's not puttering in the house, you'll find her in the garden playing in the dirt. Her garden articles provide tips and insight that anyone can use to turn a brown thumb green. You'll find her work on Modern Mom, The Nest and eHow as well as sprinkled throughout your other online home decor and improvement favorites.
View Work