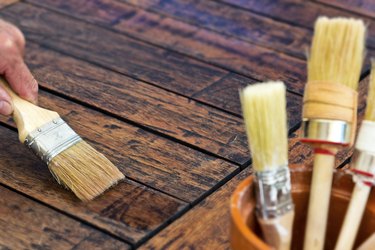 Lacquer and acrylic paint aren't necessarily different things. Acrylic paint consists of acrylic plastic suspended in a solvent; it's a non-yellowing form of lacquer. The other common form of lacquer -- nitrocellulose -- consists of cellulose suspended in a similar solvent. CAB-acrylic lacquer is a combination of cellulose and acrylic.
Solvent-Based Acrylic
Cellulose and acrylic are different films but they aren't incompatible. When you spray lacquer over a solvent-based acrylic finish, they combine to form a hybrid film, even if the acrylic is pigmented to form a paint. It isn't unusual to clear-coat an acrylic paint finish on a metal surface, such as on an automobile, with CAB-acrylic or acrylic lacquer.
Acrylic Latex Paint
Acrylic latex paint is an acrylic finish, but it won't soften when you spray lacquer on it. Instead, the lacquer remains on the paint as a surface coating. It bonds well and although lacquer isn't as flexible as acrylic-fortified latex, it doesn't crack except under extreme fluctuations in temperature or humidity. Nitrocellulose lacquer has a tendency to yellow with age, though, and it may dull the color of the paint.
---
Chris Deziel is a contractor, builder and general fix-it pro who has been active in the construction trades for 40 years. He has degrees in science and humanities and years of teaching experience. An avid craftsman and musician, Deziel began writing on home improvement topics in 2010. He worked as an expert consultant with eHow Now and Pro Referral -- a Home Depot site. A DIYer by nature, Deziel regularly shares tips and tricks for a better home and garden at Hunker and Family Handyman.