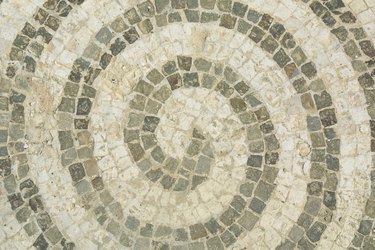 Contemporary specialized construction materials greatly reduce the time and the skilled labor necessary to complete projects once entrusted to craftsmen. Sheet-type materials cover large areas, installing quickly and forming a base for the addition of paint, wallpaper or tile finish. Wallboard, drywall and cement board are widely available panel types contractors and homeowners use in new construction or remodeling projects.
Wallboard and Drywall
Wallboard and drywall are different names for the same product. Compressed gypsum panels, covered with paper facing, install directly on wall studs. Drywall is an alternative to the traditional lath-and-plaster method of constructing interior walls. Specialty drywall panels are available with moisture-resistant and mold-resistant properties for installation on bathroom walls or in rooms with high humidity levels. Drywall, or wallboard, allows do-it-yourselfers to obtain a smooth wall surface with minimal drywall finishing skills.
Cement Board
Cement board also comes in panels, but that's where its similarity to drywall ends. Cement board is a very hard panel formed by cement slurry and reinforced fiberglass mesh. It provides a strong base on which to install tile and stone. This product resists direct moisture, making it a top choice for installation in areas of high humidity. Cement board is suitable as an underlayment on countertops, walls and floors.
Sizes and Uses
Whereas drywall comes in 4-by-8 sheets, cement board comes in 3-by-5 sheets. Drywall panels fit between wall studs spaced 16 inches or 24 inches apart. The smaller dimensions of cement board make the installation of it on large walls more difficult, but cement board panels fit vertically in 3-foot wide showers, or horizontally behind a standard 5-foot bathtub.
Installation
Drywall cuts easily with just a utility knife, but you'll need a circular saw, fitted with a heavy-duty blade, to cut cement board. Drywall installs with taper-head drywall screws. You can use galvanized decking screws or roofing nails to install cement board.