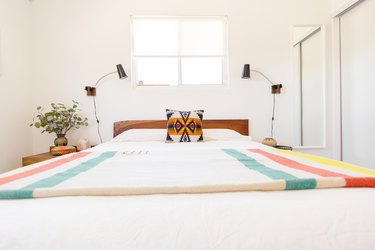 Whether you finally ponied up to buy that beautiful blanket you've been coveting, or you were gifted with a gorgeous throw, shedding can sometimes be an unfortunate issue with new blankets. It's advisable to wash them before use, but if done incorrectly, you can worsen a shedding or lint problem. Not exactly the design look you were going for, right? (Plus, not all blankets should be thrown in your washing machine!) With proper care and anti-shedding tips, you can keep your blanket looking good as new, minus those annoying flying fibers.
WASHABLE BLANKETS:
Wash, and Rewash
If you have a washable blanket, it may require a couple of washes until it stops shedding. Proper washing and drying can rid loose fibers, but improper laundering can make shedding worse. Follow the manufacturer's instructions on the laundering or care tag. The tag may instruct to wash the blanket separately; use cold or lukewarm water and gentle, chlorine-free detergent. Finally, dry it on a low or no-heat setting or air dry.
Also, remember to skip the softener. Don't use a liquid or sheet-style fabric softener on your washable blanket. Fabric softeners tend to break down soft items such as micro-fleece or micro-suede blankets, causing them to shed, pill, and eventually lose their softness.
UN-WASHABLE BLANKETS: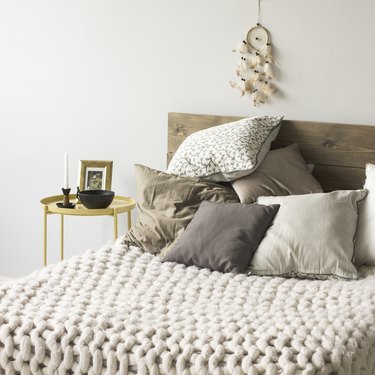 Shake It Out
New natural-fiber blankets such as wool or fur are bound to shed. Many manufacturers of these products warn against machine-washing, which can damage the item or increase shedding. Take the blanket outdoors and shake it well to rid any loose material. Dry-clean a wool or fur blanket annually, or as needed. Having it dry cleaned immediately after purchase could eliminate the need to shake it out before and after the first several uses. Brush lint from wool using a lint brush or nylon-bristled clothes brush.
Vacuum It
Did you know that a vacuum cleaner comes in handy for removing loose fibers or natural hairs from practically any blanket (except for fragile or vintage textiles in poor condition)? Use a clean soft or smooth vacuum attachment — but if your full-size vacuum cleaner has excessive suctioning power, use a lower-powered handheld model instead.
Remember, lightweight worsted wool and other natural or man-made blanket fabrics with tightly woven fibers are less likely to develop a lint or shedding problem.