Things You'll Need
Tape measure

Crayon

1-by-2-inch wood supports

Sawhorses

Power drill

Masonry drill bit or carbide-tipped hole saw

Eye protection

Dust mask
Tip
Wear eye protection and a dust mask or an approved respirator while drilling HardiePlank. The material generates a lot of silica dust. A respirator is not always necessary. According to the James Hardie company, if you choose a respirator, use a one approved by the National Institute for Occupational Safety and Health and the Mine Safety and Health Administration. The respirator should have a rating of N95 or better. Holes larger than 1 1/2 inches may require blocking cut from approved trim materials. Consult the siding manufacturer for recommendations.
Warning
Avoid drilling HardiePlank indoors to limit the spread of silica dust.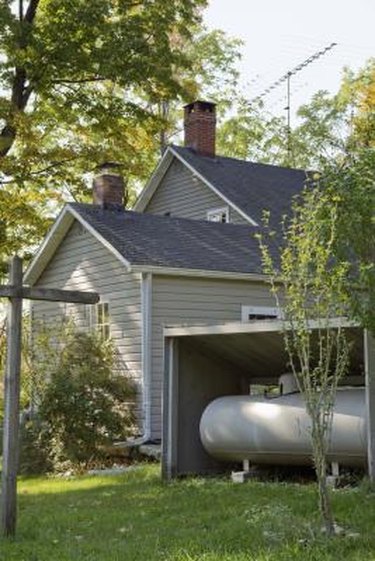 Manufactured by James Hardie, HardiePlank siding is a fibrous cement-based product. A durable material made of Portland cement, silica and wood fiber, HardiePlank stands up to weather, insects and rot. The siding is fire-resistant, providing a high level of protection for a home. HardiePlank is available as ready-to-paint or with a color layer. Although the siding does not require drilling pilot holes, you may need to run wire or cable through the siding, necessitating drilling a hole. While HardiePlank siding offers durability, it easily breaks; therefore, drilling through it requires proper tools and techniques.
Step 1
Measure and mark the placement of the hole on the siding with a professional-grade crayon.
Step 2
Place wood supports across two sawhorses before resting the siding on the sawhorses. Allow the marking for the hole to lie where there is a gap between supports. If left unsupported while drilling, HardiePlank may snap.
Step 3
Equip a power drill with a masonry drill bit for small holes or a carbide hole saw for larger holes, preferably a saw designed for use with fiber cement siding.
Step 4
Line up the tip of the bit with the marking for the hole. Turn the drill on and drill through the mark while applying gentle pressure. Exerting too much force on the drill may cause the siding to split.