Things You'll Need
1 cup distilled vinegar

2 tbsp. linseed oil

Bowl

Cotton cloth
Warning
Test a small, inconspicuous area of the leather with the vinegar mixture to ensure no damage is done to the material.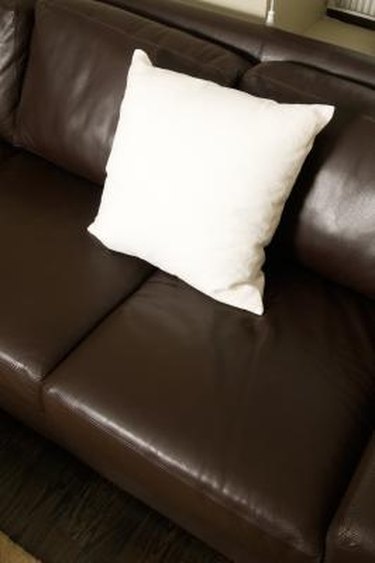 Leather is often a favorite choice of material in sofas and chairs due to its durability and high level of comfort. It is very resistant to most stains and can be easily cleaned with the use of water and a soft cloth. Pets in the home may use the leather furniture to sleep, sit and play on. These activities open the door for pet odors, including smells from urine accidents, to seep into the material. Vinegar is a disinfectant that may be used along with linseed oil to remove pet odors from leather furniture.
Step 1
Add one cup of distilled vinegar and two tbsp. of linseed oil to a bowl and mix. Linseed oil may be found at most hardware supply stores.
Step 2
Dip a clean cloth into the mixture.
Step 3
Rub the mixture into the leather using a circular motion to allow the liquid to penetrate the material. Allow the mixture to remain on the leather for 15 to 20 minutes.
Step 4
Polish the leather with a soft cotton cloth.
Step 5
Repeat steps 2 through 4 until the odor is completely removed.
---
Diana Braun began her writing career as a consultant and technical writer for a software company focusing on how-to, training, white paper, and internal process documentation. After two years, Braun left to pursue her entrepreneurial dreams. Since then, she has launched several startups including a t-shirt business, an online marketing and advertising t-shirt distribution business, and an entertainment site. She currently resides in South Florida.