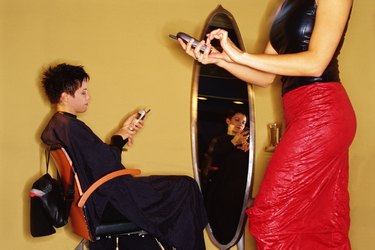 Created with polyurethane, pleather looks and feels like real leather without the high price tag. A synthetic leather material, you can find pleather in purses, footwear, garments and furniture. As with real leather, stains — such as ink — can occur. When a leaky ink pen comes in contact with the pleather material, it is best to deal with it as soon as possible. The ink can quickly set into the fabric and create a difficult-to-remove stain.
Step 1
Add a small amount of rubbing alcohol to a bowl. Rubbing alcohol is available in the health and beauty section of department and grocery stores.
Step 2
Dip a cotton ball or swab into the rubbing alcohol. Rub the stain in a gentle, circular motion for several seconds.
Step 3
Throw away the soiled cotton ball or swab and dip a fresh one in the rubbing alcohol. Continue rubbing the pleather gently until you have removed the ink stain.
Step 4
Dampen a soft cloth with water and wipe the rubbing alcohol off the pleather.