Wide windows and a love of lush, generous drapery mean you might be expanding a standard curtain or narrow panel of fabric. One way to do that is to sew two or more curtain panels together. The exercise is more painstaking than complicated, but take your time so that the finished product lies flat and any patterns in the panels are matched. While an ambitious seamstress could whip up this project by hand, a sewing machine is recommended for professional-looking seams and time-saving efficiency.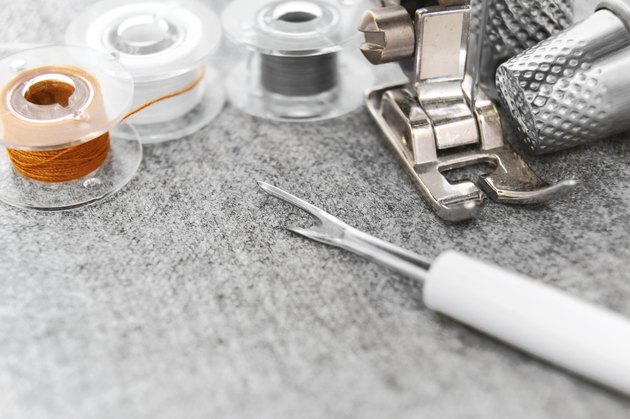 credit:
SarapulSar38/iStock/Getty Images
Step 1
Unstitch the vertical side seams on two curtain panels that you plan to sew together. Use a seam ripper with extreme care to avoid tearing the curtain fabric as you remove the stitches in the seam.
Step 2
Unpick the stitching in the top sleeve and on the bottom hem. Take out stitches about 6 inches in from the edge of both the top and bottom hems to free the sides of the curtain fabric so you can seam both panels together easily.
Step 3
Iron the side seam marks flat along the entire length of both panels.
Step 4
Place panels right-sides together and pin. Check to see that patterned panels match before pinning; then check again once you've pinned.
Step 5
Stitch a 5/8-inch seam end to end, joining both panels. Serge or zig-zag stitch the raw edges so they won't unravel.
Step 6
Fold down and **re-stitch the top sleeve and the bottom hem. Press all seams flat and slip the curtain sleeve over the rod to hang.
Step 1
Follow steps 1, 2 and 3. The lining will likely be trimmed to fit under the side seam of each curtain -- just keep it free of the main curtain fabric when you pin and sew the vertical seam.
Step 2
Sew the vertical seam keeping the lining edges free. Then press the seam flat, folding the edges back over the edges of the lining.
Step 3
Sew the folded-over seam edges down, about 1/4 inch from the seam on each side, keeping the lining caught under the folded curtain fabric. Fold the top sleeve and bottom hem back in place and stitch down.
Step 4
Press the vertical seam that joins the panels and the re-stitched top and bottom hems flat before hanging your double-width, lined curtains.