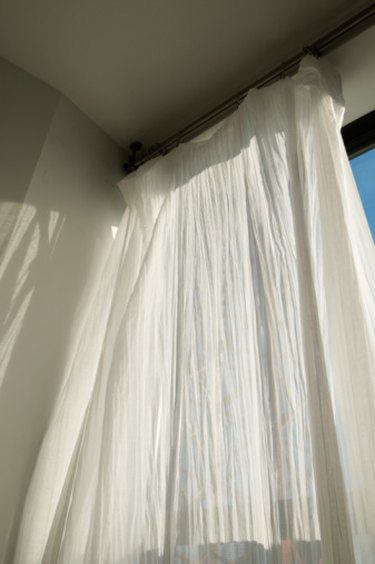 A curtain panel is a single curtain section that can be used alone in some window treatment situations or with other panels to create a fuller look or more functional effect. Curtain manufacturers' labeling can be misleading at times, so it's important to note exactly what the package contains, as many curtains are now sold as single panels instead of complete sets, making it easier to create different combinations without having an odd panel left over.
Measuring for Curtain Panels
Determining how many panels you will need for a particular curtain treatment means determining the type of window you have, the effect you are creating and how the panels must be hung. Windows set in thin walls, as are sometimes found in manufactured homes, necessitate installing the hardware directly into the wall space beyond the window frame, while in older homes, deep-set windows offer plenty of space along both the insides and the outside of the frames. For curtains hung outside the window frame, measure from where you want the top of the curtain to hang to its bottom edge, as well as from one end of the curtain rod to the other, or several inches beyond the right and left sides of the window. When hanging windows within the framework of a deep window, such as is often seen in vintage homes, measure from the inside top of the frame to the inside bottom, and the inside left to right if you want to play up the window's features.
What to Look For
Today's curtain panels are sold in several standard lengths to accommodate just about any window size. These include 45, 54, 63, 72 and 84 inches. The two most basic styles are rod-pocket, with single or double pockets at the top that are simply slipped onto a rod, or tab-top, which are hung the same way from a rod but leave gaps between the tabs. These are better-suited to being paired with a decorative rod, while rod-pocket styles hide the rod completely in most cases. Other curtain panel styles feature large gussets, or holes, that slip over the rod. Again, this style leaves a good portion of the rod exposed, so it's important to select a decorative one.
Variations
Curtain panels are also often sold in pairs with attached valances and often include tie-backs, which are thin strips of matching fabric used to pull the curtains back to keep them partially opened. Some rod-pocket curtain panels have two pockets, which gives you some flexibility as to how much additional fabric you have at either end. You can use the top pocket to add extra bottom length, or use the second pocket to create a fuller appearance at the top of the panel. Buying individual curtain panels gives you more options when dealing with very wide windows, or if you want a fuller look in a very narrow window.
Getting Creative
More elaborate window treatments include layering, which involves using more than one curtain rod, and draping, or wrapping long curtain panels around a decorative rod to create a soft airy look. A single panel of a different fabric, pattern or complementary color can also be draped over a pair of traditionally hung curtain panels to create a more formal, balanced look. Extra panels can create the illusion that a window is larger than it is by measuring several inches beyond its outer edges, or a single panel can be hung from a narrow window and kept pulled to one side for a more casual look.