Things You'll Need
Hammer

Wood-colored nails

Pliers

Putty knife

Pry bar or screwdriver

Paneling sheet

Wood glue or adhesive

Wooden strips or moulding
Tip
A quick fix when money is an issue is to cover the spot with a picture frame, clock or other wall hanging, if the spot is high enough to not look out of place. Home repair projects rarely happen right around pay days. This might be a solution until money is available for a few supplies.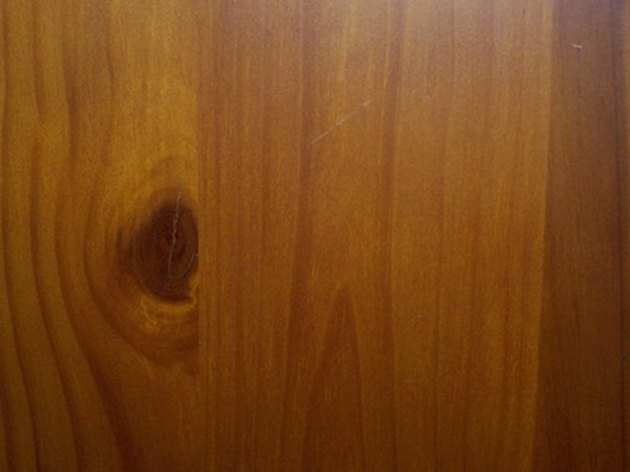 Wood paneling can be damaged over time by scratches, gouges and holes. Furniture, door knobs or wear and tear are among many things that might cause damage to paneled walls. Small holes and nicks are easily fixed with a little sanding and some wood putty but larger holes must be patched. This is an easy project that doesn't require a professional or a lot of money.
Remove the wood moulding from the sides, top and bottom of the damaged panel. A pry bar or screwdriver will work to lift the edges without snapping them. Raise the wooden strip and pull the nails out with a hammer or pair of pliers.
Loosen the panel by lifting it from the bottom edge. Pull nails along the seams and edges. Be careful not to nick or scratch adjoining panels when pulling nails.
Prepare the wall for a new panel by scraping off old glue and removing all the nails. A paint scraper will remove glue residue easily. Clean the wall thoroughly before setting in a new panel.
Apply a thin layer of adhesive to the back of the panel. Set it in place and nail the panel to secure it lightly while the glue sets. Finish nailing along the seams, top and bottom edges.
Finish by replacing the wood strips and moulding at the top, bottom and seams.
---
Lisa Musser is a freelance writer specializing in health and beauty information. She attended Pima Community College in Tucson, Ariz. and began a career as a freelance writer in 2008 after spending five years in the health-care field as a certified nursing assistant.