A Rainbow Cleaning System offers an alternative to cluttering the closet with separate large devices for vacuuming and shampooing carpets and rugs. The main Rainbow device vacuums carpet, while its AquaMate accessory turns the Rainbow into a carpet shampooer. Shampooing the carpet is as simple as connecting the AquaMate attachment, adding water and a proprietary cleaning solution and then running the unit over the carpet.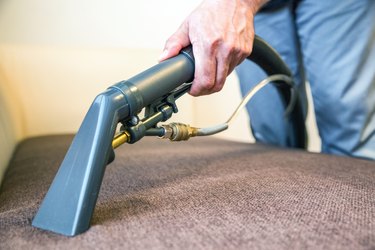 Get the Carpet Ready
Vacuuming the carpet ahead of time helps any carpet shampooer do a better job of cleaning. Move as much furniture out of the way as possible to make it easier to clean and shampoo the carpet. Fill the Rainbow's water compartment with lukewarm water, then vacuum the room thoroughly with the Rainbow and its Power Nozzle attachment. Dump the dirty water down a drain and rinse the water container out.
Set Up the AquaMate
Remove the Power Nozzle attachment from the end of the Rainbow hose and nozzle setup. In other words, only remove the piece that rolls over the carpet. Attach the end of the nozzle from the Rainbow to the opening for it on the AquaMate attachment, pressing until you hear a click.
Remove the cap from the AquaMate's soap reservoir. Pour a capful of the AquaMate carpet shampoo concentrate into the reservoir, then fill it the rest of the way with cool tap water. Replace the cap and tighten it. Fill the separate water tank on the AquaMate with cool tap water as well, then tighten its cap into place. If you've taken the tank off the AquaMate base to fill it, set it back on the base.
Shampoo the Carpet
Shampooing with the AquaMate is a three-step process: soaping, rinsing and extracting. Shampoo the carpet by selecting "soap and water" on the AquaMate switch. Select the "high" position on the Rainbow and turn it on. Run the AquaMate back and forth slowly over the floor while squeezing the trigger on its handle. When ready to rinse, turn the AquaMate switch to "water only" and go over the entire carpet once again, slowly. Keep pressing the trigger while rinsing the carpet.
Extract moisture from the carpet immediately afterward by choosing "extract" on the AquaMate switch. Move the device back and forth even slower over the carpet to remove as much moisture as possible. This also helps protect the flooring beneath the carpet.
Allow the carpet to air dry for several hours or until it no longer feels damp before replacing furniture or walking on it. Drying time varies based on the humidity and room temperature. Turn on ceiling fans to help speed up the drying process.
Clean the Rainbow and AquaMate
Empty and rinse the water basins on both the main Rainbow unit and the AquaMate, as well as the AquaMate's soap reservoir. Allow these to air dry before replacing their caps. Check the underside area of the AquaMate and remove any debris stuck within it.