When you want a unique shade for your painting project, there's the often-overlooked periwinkle blue. A periwinkle color provides a soft choice between a bold purple and a masculine blue, which is perfect for baby nurseries of either gender, bedrooms or living spaces. Also known as lavender blue, the color derives its name from the poisonous periwinkle plant (Vinca major and Vinca minor), which matches its shade.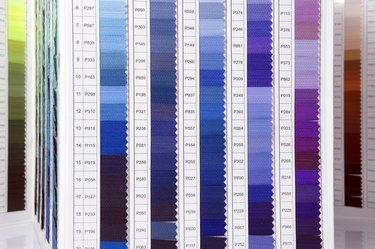 What Color is Periwinkle?
The periwinkle color is a pastel mix of lavender purple and light blue. Like most paints, the lighting of the room can affect the exact shade of the color. (Always use a test patch of paint to determine if the shade works in your space and lighting before painting the whole wall.)
Used next to an analogous color (the color next to it on a color wheel), periwinkle blue can appear more purple next to blue and vice versa. Paired with bold oranges or bright greens, the periwinkle color with its blue undertones can act as a neutral color for your walls. (The blue in periwinkle subtly balances pumpkin oranges and lighter greens.)
Is Periwinkle Blue or Purple?
The periwinkle color is both blue and purple, though it's common to see it referred to as "periwinkle blue." It's less indigo and more lavender purple, a light and airy color that can evoke both cool ice and fields of sharp flowers. Its namesake, the periwinkle flower, is a striking, enticing splash of blue-purple against dark green leaves, a combo that can be imitated in both formal and contemporary styles.
Stick with the periwinkle color instead of the plant – the star-shaped flower itself is poisonous to humans and can cause symptoms from upset stomachs to cardiac arrest if ingested. (It's not the answer to "What's the most poisonous plant in the world?" but if accidentally swallowed in small amounts, the mildest symptoms are enough of a discomfort that the plant can be considered very dangerous.)
How Do I Mix Periwinkle Blue?
Start with finding the exact shade of periwinkle blue that matches your painting project's needs. There are variations on the periwinkle color that can affect your décor; periwinkle gray, for example, adds a darker tone to the mix that leans more neutral than bright. Premade periwinkle blue mixes are available in home improvement stores, paint stores and hardware stores.
To create your own unique mix, start with red and white paint to create a base of pink. Red and blue combine to make purple; softening the red from the start will aid in removing some of the heavier purple hues of your periwinkle color. Mix your base of pink with a lighter blue shade. You can start with a premixed lighter blue or combine dark blue and white.
The mix should start looking like a light purple. Remember that the final look will be a pastel tone, so adding extra white will soften the mix if it's not right the first time. Adding gray or violet to the mix will darken the shade; just don't go overboard with the violet or the color will learn toward purple and not true periwinkle.
Pick the Proper Paint Sheen
Paint sheen plays a huge part in your final look as well. A flat or matte with a low sheen can hide flaws in the wall but are more susceptible to new stains. Glossy sheens, semi-gloss or satin sheens are more reflective and can mask imperfections.
High-traffic areas like kitchens, bathrooms or entryways fair better with a high- or semi-gloss sheen since they're more stain resistant than matte or satin sheens. An eggshell or satin sheen for your periwinkle color is a happy medium between the two opposite ends of flat matte and high-gloss and are good for bedrooms, accent walls or trim work.