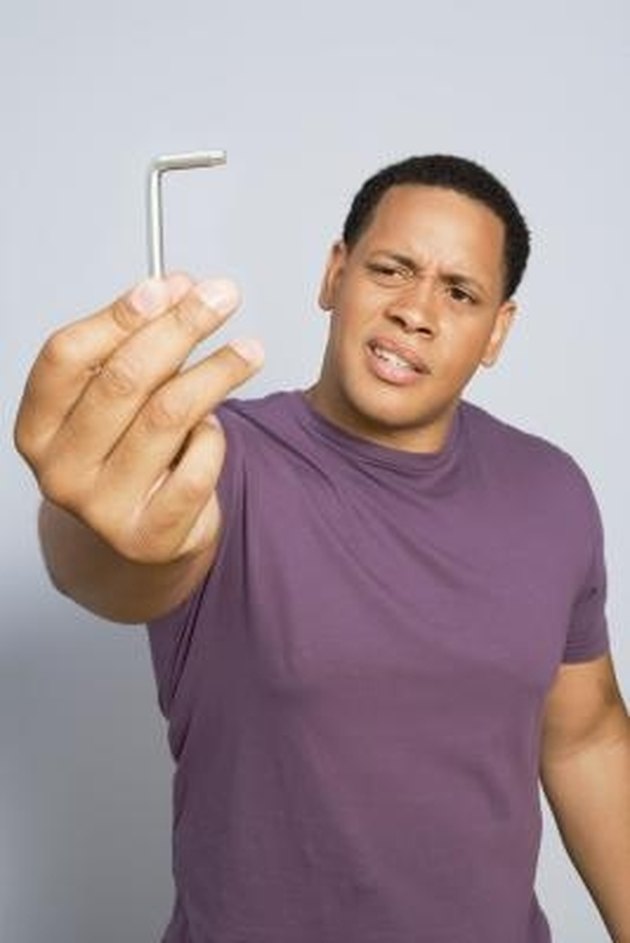 A single-handle, seat-and-spring Delta faucet employs a lone set screw to connect the handle to the faucet body. Removing this set screw requires an Allen wrench, which is an L-shaped hex key specifically designed to fit hexagonal screw heads.
Step 1
Twist both the hot and cold water valves clockwise, as much as possible, to shut off the water to the faucet. Locate the valves underneath the sink and against the wall, for a bathroom or kitchen sink faucet. Raise the Delta faucet handle straight up, to the fully on position, and keep the handle in this position. This allows any water left in the lines to flow out of the spout and affords you clear access to the set screw.
Step 2
Insert the end of a 1/8-inch Allen wrench into the set screw located in the base of the handle. Twist the wrench counter-clockwise to loosen the screw. Test the handle's tightness with one hand, as the Allen wrench retracts the set screw further out of the handle. Continue turning the Allen wrench counter-clockwise until the handle is loose enough to remove from the faucet body. Do not unscrew the set screw completely out of the handle. Remove the Allen wrench from the set screw.
Step 3
Pull the handle up, lifting the handle off the faucet body, and revealing the faucet cap underneath.
---
Christopher John has been a freelance journalist since 2003. He has written for regional newspapers such as "The Metro Forum" and the "West Tennessee Examiner." John has a Bachelor of Arts in journalism from Memphis State University.