One of the beautiful things about European-style hinges is the ease with which they can be adjusted. Three screws sit on the hinge in the interior of the cabinet, allowing you to subtly shift the orientation of the cabinet door. Hanging cabinet doors in perfect alignment can be a very difficult task. By eliminating the need to get it perfect the first time, you can remove a lot of stress from the job.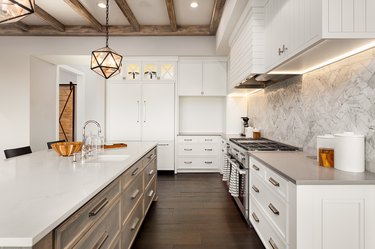 Side-to-Side Adjustments
Once you've hung your cabinet door, you may find that the door's vertical edges don't line up with the edge of the cabinet door. Or you may discover that the cabinet door is too far over, leaving insufficient space between the cabinet door and any adjacent cabinetry. Either way, you are going to have to adjust. To do so, make sure you have a #2 Pozidriv screwdriver. This is one case where the brand and type really matters. The Pozidriv is specifically designed with straight-sided flanks, while a Philips's flanks have angles. This allows greater torque to be applied to the screwdriver without stripping the screws. A Philips screwdriver can strip the screws, which could be disastrous for your cabinets in the long term.
Using your screwdriver, turn the front screw clockwise to bring the hinge-bearing edge of the door closer to the cabinet side. This will pull the door back towards the hinge side of the cabinet. If you need to push the door away, turn the screw counterclockwise to bring the door in better alignment with the vertical edge of the cabinet.
Take care when making this adjustment. Unscrewing the screw too far in the counterclockwise direction can cause the screw to become unthreaded from the metal, which could lead to the entire hinge falling apart. Make small adjustments as necessary but take it very slowly.
In and Out Adjustments
It's easy to hang a cabinet door and find yourself with a large gap between the cabinet door and the cabinet itself. This can cause the doors to swing open without warning and not close properly, which is counter to the goal of having cabinet doors in the first place. The hinge should be adjusted. Using your screwdriver, turn the rear screw counterclockwise to pull the edge of the door closer to the cabinet. If your door is too close and needs a tiny bit more space so that opening and closing are smoother, turn the rear screw clockwise to push the edge of the door outward and away from the cabinet.
Up and Down Adjustment
Lastly, there are times when the horizontal alignment of the cabinets is less than ideal, and you have gaps at the top with overlap on the bottom or vice versa. In this case, you'll need to use your screwdriver on the center hinge to make the necessary adjustments. Turn the screw clockwise to move it up and counterclockwise to move it down.