Things You'll Need
Approved fuel container

Needle-nosed pliers

Screwdriver

Rag

Brush

Replacement filter
Tip
If this hasn't solved your problem, your fuel line or carburetor will likely need cleaning and servicing.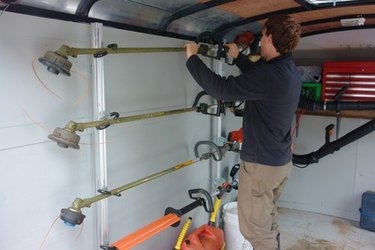 The fuel filter on a weed trimmer sits inside the fuel tank, connected to the main fuel line. It blocks any dirt or debris that may have entered the tank during refueling stops in the field. This filter needs to be replaced on a regular basis, about every 40 hours of operation, and every time you replace the fuel lines. Symptoms of a clogged fuel filter include loss of engine speed under load, hard or erratic starts and an engine slow to accelerate.
Step 1
Remove any gas from the tank. Pour it into an approved fuel container. Start the trimmer, if you can, and burn off the gas remaining in the tank and fuel line. Look inside the tank for any dirt, weeds or wood chips that might be clogging your fuel filter.
Step 2
Disconnect the main fuel line from the elbow connector on the carburetor. On most two-cycles, this will be located behind or next to the air filter. On some models, you may need to unscrew the air filter cover, air filter and air filter mounting plate with the screwdriver to access the carburetor.
Step 3
Reach into the fuel tank with the needle-nosed pliers. Grab the fuel filter with the pliers. Pull the fuel filter off the main fuel line. Remove it from the tank.
Step 4
Inspect the fuel filter for signs of blockage. If it's clogged you may see dirt, weeds or other debris on or underneath the mesh screen on the filter. Pour a little fuel over the fuel filter and scrub it with the brush. Dry it with the rag. If you can't dislodge stuck material, replace the filter.
Step 5
Inspect the nozzle that goes inside the fuel line for signs of clogging. If it's clogged you may also see dirt or foreign matter inside the nozzle. Replace the filter if the nozzle is clogged.
---
Currently based in Minneapolis, Minn., Eric Blankenburg has been a freelance journalist since 2000. His articles have appeared in "Outside Missoula, Outside Bozeman," "Hello Chengdu" and online at GoNomad.com and various other websites. He holds a Bachelor of Arts in creative writing from the University of Montana.