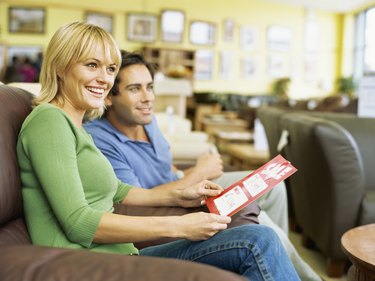 Ashley Furniture Industries manufactures all types of furniture, from sofas to sectionals, bars to bedroom sets. Over time, new product lines or new styles are introduced by Ashley, and old pieces are discontinued. Finding an armchair or a tall bar stool to match a cafe set you bought from Ashley a while ago requires a bit of research, as well as knowing the model name of the piece you seek. In some cases, wholesale outlets may have exactly what you're looking for.
Determine the Style Name
If you already have Ashley furniture in the style or design you want, check the pieces for a tag or label of some sort indicating the model name. On a stool, table or un-upholstered chair, check the underside of the seat or tabletop. For upholstered furniture, inspect all the cushions or flip the furniture on end to look underneath. Large furniture such as a cabinet or armoire may bear the information on the back. Knowing the name comes in handy when calling around to determine if stores carry that particular style.
Outlet Outlook: Good
Call furniture outlets in your local area to determine if they carry Ashley furniture -- many do. Furniture outlets offer discontinued or scratch-and-dent furniture sold off by the manufacturers or retail stores. Look for words such as "furniture outlet" or "name brand discount furniture" to hone in on potential sellers, especially locations that indicate they are authorized Ashley furniture dealers. In some cases, charity salvage shops may also receive discontinued Ashley furniture.
---
Kathy Adams is an award-winning writer. She is an avid DIYer that is equally at home repurposing random objects into new, useful creations as she is at supporting community gardening efforts and writing about healthy alternatives to household chemicals. She's written numerous DIY articles for paint and decor companies, as well as for Black + Decker, Hunker, SFGate, Landlordology and others.