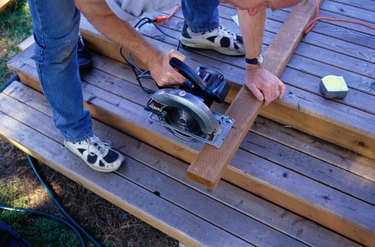 When decks are exposed to extreme sunlight or abundant rainfall, the decking boards can wear out long before the deck's foundation. You will have no problem installing composite decking boards on the deck, as most composite decks have wood foundations. For several reasons, though, it's important to remove the old deck planks first.
Remove the Wood Decking
Depending on the size of your deck, you could save two or three days' work by installing new decking boards directly over the old ones. One important reason to avoid doing this is that the deck foundation may not be able to handle the extra weight. Another reason is that the new decking raises the floor level by an inch and a half, which throws off the stairs and the entry to the house. A third reason is that water seepage under the new boards will rot the old ones, and the surface will be unstable when the old boards disintegrate.
Installing Composite Boards
After removing the old decking boards, check joists for level before installing new composite boards. If the decking is warped, the joists may also be, and you may have to replace a joist or two. The best way to install composite boards is to use hidden fasteners -- they screw to the joists and hook into grooves in the sides of the boards to hold them down. You can also attach composite decking boards to the joists with 3-inch deck screws. Avoid using nails to attach composite deck planks, as the nails heads don't sink well into composite materials.
---
Chris Deziel is a contractor, builder and general fix-it pro who has been active in the construction trades for 40 years. He has degrees in science and humanities and years of teaching experience. An avid craftsman and musician, Deziel began writing on home improvement topics in 2010. He worked as an expert consultant with eHow Now and Pro Referral -- a Home Depot site. A DIYer by nature, Deziel regularly shares tips and tricks for a better home and garden at Hunker and Family Handyman.