Things You'll Need
Nonabrasive household cleanser

Nonabrasive cellulose sponge

Clean, soft cloths

Mineral deposit remover

Cream car wax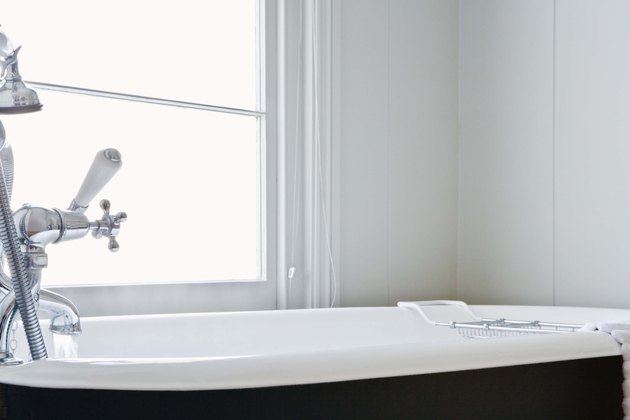 Fiberglass is a common material used in the manufacturing of bathtubs. To prevent damaging the surface of a fiberglass tub, use appropriate cleaning and maintenance procedures. Abrasive cleansers, daily wear and tear and scouring pads scratch the fiberglass surface. As the fiberglass surface scrapes off, the bathtub takes on a dull, stained appearance. Protect fiberglass bathtubs by polishing them with car wax. Polish fiberglass bathtubs at least twice a year so the wax forms a protective barrier and keeps the surface conditioned.
Step 1
Use a non-abrasive household cleanser and a non-abrasive cellulose sponge to clean the fiberglass tub. Use a mineral deposit remover to get rid of any mineral deposits. Rinse the tub thoroughly and allow it to dry.
Step 2
Use a soft cloth to apply the car wax to any scratches and dull areas on the fiberglass bathtub. Follow the manufacturer's application directions and warnings. Ensure that the car wax gets inside cracks. The wax forms a protective barrier for the damaged fiberglass surface.
Step 3
Buff the area by rubbing the wax with circular motions. Buff away all of the wax.
Step 4
Apply the car wax to the sides and rim to protect the fiberglass bathtub. Apply wax over the scratched and dulled areas again. Do not apply to the bottom of the tub; the wax will cause the surface to be slippery once it is wet.
Step 5
Buff the sides and the rim of the bathtub with a clean, soft cloth. Buff until all traces of the car wax are gone. Continue to polish the fiberglass bathtub until the surface shines.
---
Ms. Davies owns two websites, has published one ebook and has previous writing experience with psychological research teams. Ms. Davies has a psychology degree, 11 FEMA emergency response certificates and 1 terrorism response certificate from the National Fire Academy.