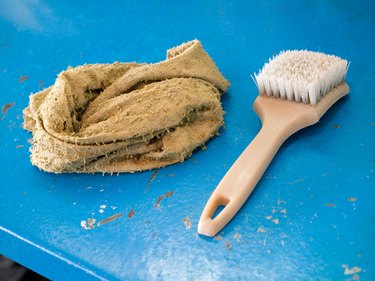 Every now and then, an accident can occur that will result in a blood stain on a painted wall. The quicker the blood stain is removed, the easier the stain is to clean. There are cleaners available on the market that are made specifically to remove blood and other types of stains. To ensure the chemicals in these cleaners will not damage the surface of your painted wall, they should be tested in a small area before use.
Step 1
Combine soap with warm water in a bucket and insert a cloth. Wring out the cloth to avoid water drips on the flooring.
Step 2
Wipe the blood stain with the cloth. Dip the cloth into the bucket, wring out the cloth and repeat until the stain is completely gone.
Step 3
Let the area dry. If the blood stain is still visible, use a melamine foam eraser such as Mr. Clean Magic Eraser or Scotch-Brite Easy Erasing Pad on the blood stain. Wet the eraser pad with some water and wipe the blood stain.
Step 4
Let the area dry. For tougher stains that cleaning will not eliminate, use a stain-blocking primer to cover the stain. Apply the primer to the blood stain.
Step 5
Let the area dry. Apply a second coat, if necessary.
Step 6
Let the primer dry completely. Apply wall paint that matches your existing paint color over the primer to give the area a finished look.
Step 7
Allow the area to dry. Apply a second coat of wall paint, if necessary.