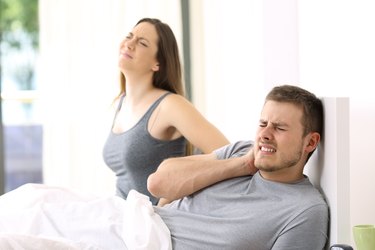 The key to fixing the hump in the middle of your mattress is to first recognize that the true problem is that the rest of the bed is sinking. People tend to choose one side of the bed and stay there every night, causing the sides of the bed to sag while the middle of the mattress stays high and firm. Fixing the problem requires taking steps to flatten the middle of the bed while raising the sagging sides. You can also use mattress toppers and thick mattress pads to help even out the feel of lumps and bumps.
Here are some tips for fixing that hump
Tip #1
Take a peek under your mattress and check out the support system. Repair or replace sagging or damaged box springs and bed slats. If your bed is supported by wooden slats, consider replacing them with metal ones. Resist the temptation to support your bed with a sheet of plywood or other solid surfaces, however, especially if your mattress is memory foam. Mattresses must breathe in order to prevent mold. Resting the mattress on plywood or other solid surfaces prevents airflow.
Tip #2
Examine your mattress and identify the lowest points. Lift the mattress and place flat pillows underneath it where you noticed these low points. It may take a bit of adjusting and tweaking, but properly positioned pillows can lift the sagging parts of your mattress, getting them closer to level with the center hump. You can also purchase inflatable air bladders to give your mattress a lift where it needs one most.
Tip #3
Try a mattress topper. Memory foam mattress toppers and other thick, or quilted pads help smooth out the look and feel of an uneven mattress.
Tip #4
Use the hump. You certainly won't be able to sleep comfortably on the hump in the middle of your mattress, but you can make an effort to flatten it by using it more. Rest in the middle of the mattress when reading or watching television in bed to try and flatten it out. You can also snuggle with a special someone in the middle of the bed before parting ways to sleep on your own sides of the mattress.
Tip #5
Rotate your mattress every six months. If you can, rotate and flip your mattress. Note, however, that some modern mattresses are one-sided and can be turned but not flipped. If you're single, make it a point to switch sides of the mattress periodically. If you sleep with a partner, switch sides with him or her upon occasion to distribute your weight more evenly across the mattress.
---
Home is where the heart is, and Michelle frequently pens articles about ways to keep yours looking great and feeling cozy. Whether you want help organizing your closet, picking a paint color or finishing drywall, Michelle has you covered. If she's not puttering in the house, you'll find her in the garden playing in the dirt. Her garden articles provide tips and insight that anyone can use to turn a brown thumb green. You'll find her work on Modern Mom, The Nest and eHow as well as sprinkled throughout your other online home decor and improvement favorites.
View Work