Things You'll Need
Mild soap

Water

Soft cloth

Fine-grit sandpaper

Concrete patch

Putty knife

Concrete sealer

Painter's tape

Concrete primer

Acrylic paint base coat (lighter color)

Paint tray

Paint brush or roller

Acrylic glaze

Acrylic paint top coat (darker color than base coat)

Plastic paint bucket

Plastic drop cloths

Rubber gloves

Veining paint - light or dark

Turkey feather or dagger brush
Tip
A fine artist's brush may be used in place of a turkey feather. For a soft look, go over the paint after the plastic is lifted away with a soft-bristled, dry brush to feather the colors together. This adds a bit of realism.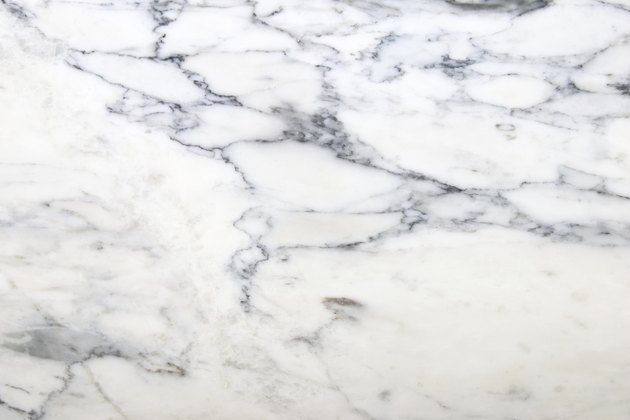 If your concrete counter top is beginning to look a little drab or you're simply ready for a change, there is no need to replace the counter top. Faux finishing techniques allow you to change the look of the sealed counter top to emulate other materials such as marble. Practice your marbling technique on scrap paper or cardboard first to build confidence, which adds realism to the look of your finished faux marble countertop.
Step 1
Choose colors that work with your decor. You can have something that's high-contrast, or something that blends nicely with the surroundings. Find the marble coloring and texture you like, and keep an image of it close by as you try to duplicate it on your counter tops.
Step 2
Clean your concrete counter tops thoroughly with mild soap and water. Allow them to fully dry before going on to the next step.
Step 3
Sand around any areas with holes and dents, and fill them with concrete patch. Level off the excess with a putty knife. Allow the concrete patch to dry, and sand it smooth. Wipe off the counters again with a dry cloth. Cover the patched-up areas with sealer.
Step 4
Cover surrounding areas that you do not wish to paint with painter's tape.
Step 5
Apply a primer designed for concrete. Mix some of the base coat color with the primer (one part base coat, three parts primer) for better color coverage. Allow it to dry, and apply a full coat of base color. Allow this to dry, also.
Step 6
Mix the acrylic glaze with the top coat color, one part paint to four parts glaze, in a large plastic bucket. Drop a two-foot by two-foot section of plastic drop cloth into the glaze, shaking off any drips as you remove it. Wear rubber gloves while doing this, as it can be quite messy.
Step 7
Lay the plastic on the base coat, scrunching it up in places, then lift it off. The scrunching will leave behind cracks and veins. Repeat this process, using fresh drop cloths each time until the surface is covered with this texture. Allow the paint to dry before applying the veining. This is very similar to a process known as frottage.
Step 8
Dip a turkey feather or dagger brush into the veining paint. The color of veins is up to you; marble veins can be lighter or darker than the base coat. Check the patterns on the image of marble you're selected. Lightly touch the tip of the feather or dagger brush onto the glazed surface, and try to duplicate the size and direction of veins in the image. You can also practice on a piece of paper beforehand if you're feeling uncertain.
Step 9
After the veining is dry, apply a sealer designed for painted concrete surfaces.
---
Ingrid Hansen has been published in "Twin Cities Business" magazine, the "Murphy Reporter," "Twin Cities Parent" magazine and the "Southwest Journal" newspaper. She has also written more than 30 non-fiction books for the K-12 library and education market, and has been a subject matter expert and a course designer for online college curriculum. She teaches English Composition at a local college, and holds a Master of Fine Arts in creative writing from Hamline University.