Things You'll Need
Soft cloth

Baking soda (optional)

Salt (optional)

Clean towels

Canola oil
Tip
Coconut oil, or a high quality vegetable oil, may be substituted for the canola oil.
Warning
Do not use olive oil to season a waffle iron, as it can't stand up to the heat.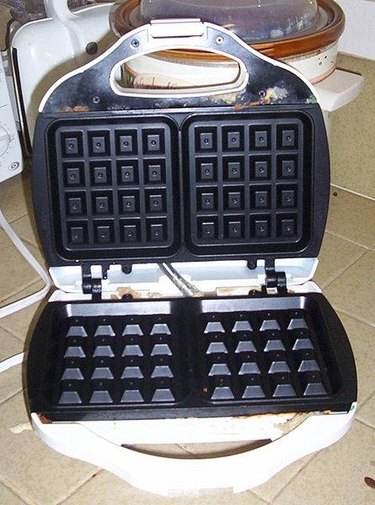 A waffle iron made of cast iron must be properly seasoned prior to use and continually seasoned over time. The seasoning improves after each use if the process is followed correctly. Rubbing the cooking surfaces with oil and heating the iron start the process. Repeating this treatment after each use seasons the iron further, resulting in great non-stick waffles every time. This method can be used for both electric and non-electric waffle irons.
Step 1
Clean the grids on the waffle iron thoroughly with a soft, clean cloth. Remove any debris, dirt or dust.
Step 2
For stubborn deposits, use a mixture or equal parts baking soda and salt. Apply with a clean cloth or soft scrub brush and a little water, as needed, to remove all debris.
Step 3
Place the grids upside down on a clean towel for several hours, and allow them to dry completely.
Step 4
Apply several tablespoons of canola oil to a clean cloth and use the cloth to wipe to all of the cooking surfaces of the waffle iron. Be sure to get the oil into all the grids as thoroughly as possible.
Step 5
Plug in the waffle iron and wait for it to reach its normal cooking temperature. Allow it to remain at this temperature for 10 to 15 minutes, and then turn it off and allow it to cool completely. Store the iron until ready for use.
Step 6
For a non-electric waffle iron, place the grids in an oven that has been preheated to 200 degrees F for 25 to 30 minutes. Cool and store until ready for use. You can also take the grids out of an electric iron and place them in the oven to season.
---
Willow Sidhe is a freelance writer living in the beautiful Hot Springs, AR. She is a certified aromatherapist with a background in herbalism. She has extensive experience gardening, with a specialty in indoor plants and herbs. Sidhe's work has been published on numerous Web sites, including Gardenguides.com.