Tip
Always check the measurements twice to ensure you've measured accurately. The standard height of a medicine cabinet in a standard size home is 30 inches.
Warning
Don't install a medicine cabinet that is too big for the size of your bathroom. Purchase a cabinet relative in size to the other bathroom fixtures.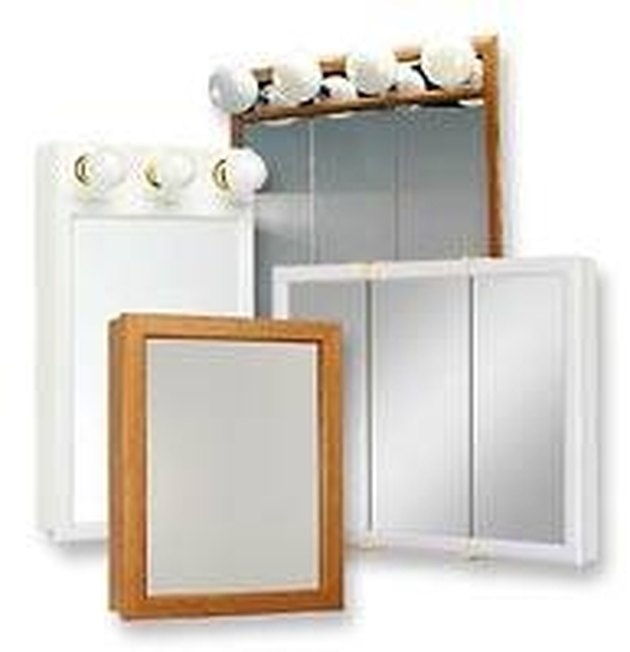 Medicine cabinets hold the mirror that you look into every morning when you get up. Make it a positive experience by installing an attractive medicine cabinet. Medicine cabinets come in a variety of shapes, sizes and styles. The most important aspect of choosing the medicine cabinet that's right for you is making sure it will fit on the wall space in your bathroom. If you are in the market for a new medicine cabinet, measure the bathroom wall dimensions accurately to ensure a proper fit.
Step 1
Check the dimensions of the wall space to see what type of cabinet you have room for. Surface-mounted medicine cabinets come in dimensions of 15 1/4 inches by 30 inches. For a larger wall area your cabinet dimensions can be 22 1/2 inches by 29 1/4 inches.
Step 2
Allow yourself more cabinet room horizontally by choosing a wide cabinet with a mirrored door on hinges. They come in dimensions of 30 inches wide by 30 inches high as well as 35 1/4 inches wide by 29 1/4 inches high.
Step 3
Install a double door medicine cabinet if you have the space. The dimensions of this bathroom cabinet run 24 inches wide by 30 inches high.
Step 4
Choose your bathroom medicine cabinet dimensions based on the measured dimensions of the wall space in your bathroom.
Step 5
Use a tape measure and mark off 40 inches from the mirror, on the medicine cabinet, to the floor, if your medicine cabinet is above a vanity.
Step 6
Divide the width of your vanity by two and then transfer the centerline point to the wall. Measure the back of your medicine cabinet's width and height and transfer those dimensions to the wall.
Step 7
Hang the medicine cabinet using the marks on the wall to ensure that your cabinet is centered.
---
Lacy Enderson is an Addictions and Recovery Counselor. She is Certified with the American Association of Christian Therapists and holds a Master's Degree in Biblical Counseling. She is currently enrolled in Liberty University's Master of Divinity Degree program with Chaplaincy. Lacy is a graduate of Rhema Correspondent Bible School and has completed the first section of Berean School of the Bible. Lacy is the author of, "Addiction: A Personal Story" and "So You Want to Lose Weight But You Can't Stop Eating." Her newest novel is a teenage Christian fiction titled, "Honey Sweetheart."