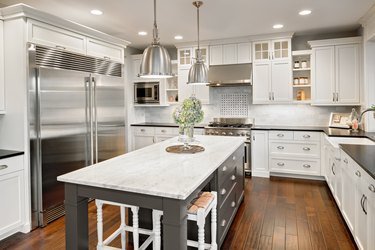 The older you get, the more you might start taking note of which brands and products are the best of the best. There are many top-rated products on the market, but kitchen appliance enthusiasts love the KitchenAid dishwasher, KitchenAid refrigerator and the ever-popular KitchenAid mixer. Although KitchenAid appliances are super popular, some may not know that KitchenAid is owned by Whirlpool Corporation. When it comes to appliance types, KitchenAid may be a rolling stone, but Whirlpool Corporation is definitely a rolling boulder in the manufacturing world.
KitchenAid Brand Background
According to Whirlpool Corporation, the KitchenAid brand dates back over a century. It was launched from two inventions, the KitchenAid dishwasher, created by socialite Josephine Garis-Cochrane in 1893 and the first commercial stand mixer created by engineer Herbert Johnson at the Hobart Manufacturing Company. The iconic stand mixer was launched in 1919, and KitchenAid has grown to offer a broad selection of kitchen products. In 1986 the KitchenAid brand was acquired by Whirlpool Corporation from Dart and Kraft. To this day, Whirlpool Corporation owns a majority of the KitchenAid brand.
Whirlpool Corporation Background
According to Whirlpool Corporation, the Whirlpool name started popping up in 1906. One could find the Whirlpool name on hand-operated washing machines manufactured by the Horton Manufacturing Company of Fort Wayne, Indiana. The problem with that hand-operated technology was that it needed to be used next to a water source, and more innovative technology began to appear on the market. The next time the Whirlpool name popped up was in 1922 when the Nineteen Hundred Washer Company acquired it, and then in 1929, the Upton Machine Company merged with the Nineteen Hundred Washer Company to become The Nineteen Hundred Corporation.
It wasn't until 1947 that The Nineteen Hundred Corporation began to focus on the development of an automatic, spinner-type washer for Sears Roebuck & Co. under the Kenmore brand. Finally, in 1948, noting that the spinner-type washer machine was a huge hit, The Nineteen Hundred Corporation created a dual-distribution system, retained its partnership with Sears and began marketing its washing machine under the Whirlpool brand name. This was a crucial point in the development of the Whirlpool Corporation. In 1950, The Nineteen Hundred Corporation changed its name to Whirlpool Corporation, and they steadily began to acquire brands such as KitchenAid.
KitchenAid Small Appliances and Distribution
Currently, other companies are in charge of manufacturing the small appliances. In the past, the older models were made by In-Sink-Erator and WC Wood. According to American Appliance Repair, in addition to the smaller appliances being manufactured by other companies, KitchenAid products are also distributed and sold by many different companies. These major retailers include Home Depot, Walmart, Williams-Sonoma, Kohl's, Bed Bath & Beyond, Macy's and many more. Other smaller retailers also sell a variety of KitchenAid and Whirlpool products.
In addition to owning KitchenAid, Whirlpool Corporation also owns Hotpoint, Amana, Everydrop, Consul, Bauknecht, Gladiator, Maytag, Brastemp, Acros, Yummly, Indesit, Jennair, Diqua and Affresh Specialized Cleaners. These brands are primarily sold alongside KitchenAid's most popular products.
---
Allanah Dykes is a freelance writer and her work has been featured on Elite Daily, Levo League, Popsugar, Complex, Gurl, The Kitchn, HelloGiggles, Revelist, and Food 52.
View Work