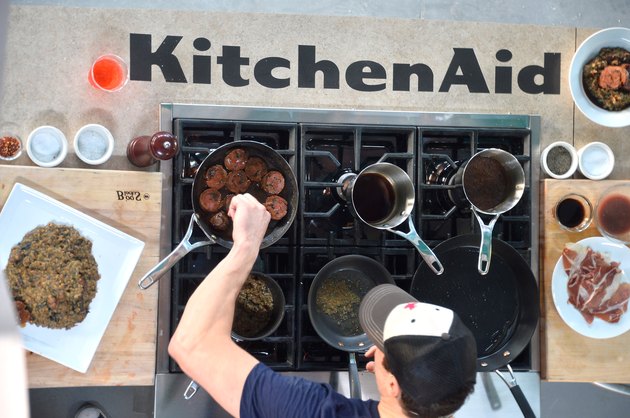 KitchenAid, a kitchen appliance brand, is widely known for its line of stand mixers. The company also offers an extensive line of high end appliances such as dishwashers, refrigerators and cook tops, as well as countertop appliances, including blenders and food processors. Like many companies, KitchenAid does not manufacture its own large appliances.
History
KitchenAid was founded in 1919 as a subsidiary of the Hobart Corporation. Whirlpool purchased the company in 1989.
Large Appliances
Whirlpool manufactures the majority of KitchenAid's appliance line.
External Manufacturers
Although KitchenAid is owned by Whirlpool, their small appliances are also manufactured by other companies. These include WC Wood and In-Sink-Erator.
Distributors
The KitchenAid brand is sold by major national retailers, including Sears and Home Depot, as well as small regional retailers that carry other Whirlpool products.
Sister Brands
Whirlpool owns several other brands, including Jenn Air and Maytag.
Other Products
KitchenAid also brands a line of cookware, which is produced by the Meyer Corporation. Meyer also produces brands such as Analon and Farberware.
---
Rebecca O'Brien has been writing since 2006. She contributes to several online magazines, specializing in politics, technology, parenting and cuisine. She studied marketing and language arts at McHenry County College.