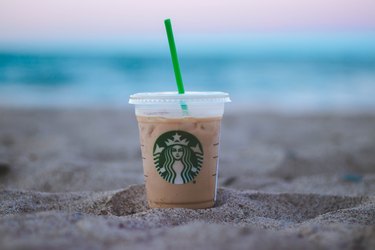 It's safe to say that we are obsessed with nugget ice. And considering how popular personal nugget ice makers are becoming, we don't think we're alone. There's just something about the crunchy yet chewy texture that makes it so satisfying to munch on.
You may have seen nugget ice in your drink at fast food chains, like Chick-fil-A and Sonic, which use the customer-favorite ice in all of their cold beverages. Now, another huge chain is catching on to the trend: Starbucks.
That's right, Starbucks is slowly switching to nugget ice in the U.S. Rumors of the switch started on Reddit, where a user shared that their store was one of the test sites for the new ice. Responses were mixed. While some commenters were excited about the new ice, many said that they were nervous that it would water down their iced coffee.
But, according to CNN, Starbucks said the nuggets don't melt any faster than their larger ice cubes. Whew!
The coffee giant will roll out the new ice in increments as stores gradually make the switch to Follett ice machines, which generate their trademarked 'Chewblet' ice. The company says the ice is customer-preferred and great for blended beverages. (FYI, 'Chewblet' ice is made up of compressed nugget ice, so the terms are basically interchangeable).
We're crossing our fingers that our store will make the switch ASAP.