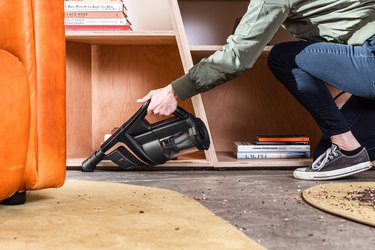 Do you enjoy cleaning? For some of us, there's a sense of satisfaction and accomplishment that comes with thoroughly cleaning the entire house. Cleaning can even serve as a catharsis, helping one feel in control. But on the other side of the spectrum are those who avoid cleaning at all costs, dreading the concept of sweeping, scrubbing, and dusting.
According to Talker, a new survey of 2,000 Americans — commissioned by cleaning supplies company Casabella and conducted by market research company OnePoll — reveals that more of us are cleaning averse than we'd probably like to admit. Per this research, 90% of Americans say they get anxious about cleaning their home.
The study also found that 72% of respondents are not as thorough as they should be when cleaning, neglecting certain areas in particular because they're either too hard to reach (44%), they're too difficult to clean (39%), or they simply don't have the time to clean (38%).
One of the most interesting findings of the research is that over half of the adults surveyed came clean (no pun intended!) about either "always" or "often" cutting corners while cleaning their home, with a measly 9% claiming they never cut corners.
In this same vein, just under half of respondents answered that they either "always" or "often" pretend not to see a mess so that someone else in their household will clean it instead. This might be acceptable every so often — we're all human, after all — but it's important to take pride in being a good roommate, family member, or guest by holding ourselves accountable to clean up a mess we cause or come upon.
Of course, the anxiety that can stem from the process of cleaning is triggered when cleaning certain areas and items in the home more than others. The survey found that the top three anxiety-inducing things to clean at home are floors, carpets and rugs, and the refrigerator. Check out the complete top nine list below.
Top 9 Anxiety-Inducing Areas to Clean in the Home
Floors — 54%
Carpets/rugs — 52%
Refrigerators — 52%
Windows — 50%
Dishwashers — 48%
Microwaves — 47%
Closets — 47%
Sofas/couches — 34%
HVAC systems — 21%