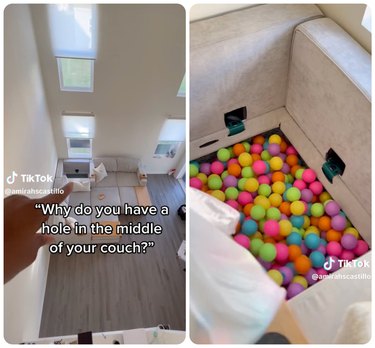 Add this home hack to the list of things we wish we had as kids!
TikToker Amirah Castillo (@amirahcastillo) has come up with one of the best sofa hacks we've ever seen for children: turning a Lovesac sectional sofa into a ball pit.
Lovesac has deemed its Sactionals, as it calls its sectional sofas, the "world's most adaptable couch" thanks to their practically endless customization opportunities, from configurations to machine-washable covers. But we're pretty sure the company never had ball pits in mind!
In a viral TikTok video, Castillo shows how she's arranged her L-shaped Sactional to create a mini ball pit in the corner.
"Not me RUNNING to the living room to transform my couch into a ball pit 😂for ME!!!" commented one fan.
Even Lovesac chimed in, calling the hack "adorable."
But as some users pointed out, there are exposed metal clamps within the pit that could lead to some bumps and bruises. Usually, those are covered by a seat cushion.
Though Castillo says they haven't been an issue, one commenter offered a solid solution. "Might wanna cut up a pool noodle and cover those metal hooks," they wrote.
A dollar-store solution? We love to see it!