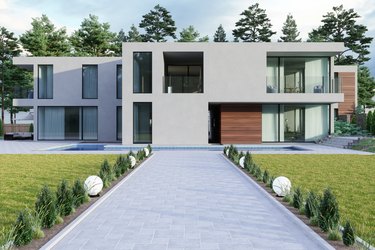 While we may not be able to afford a luxury home right now, we can sure dream about it. And who doesn't love visiting wealthy areas, ogling at the mansions, and guessing how much they sold for? It's honestly one of our favorite activities.
Lucky for us, CashNetUSA released a report identifying the most expensive neighborhoods in the U.S. Not only did they make a list of the top 10 nationwide, but they also revealed the priciest 'hoods in each individual state. To get the results, CashNetUSA used real estate data from Zillow and found ritzy neighborhoods ranging from paradise settlements for the mega-rich to unassuming southern suburbs.
The priciest neighborhood in the U.S. is the beachside community of Manalapan, Florida. The average home price there is astronomical, at nearly $40 million. Notable Manalapan residents include celebrities like musician Billy Joel and boxer Don King.
Perhaps the only (semi) surprising neighborhood that made the list is Snowmass, Colorado, with home prices averaging $23.6 million. But it's not just some wholesome town in the Rockies — Snowmass is one of America's most popular ski destinations and the booming real estate market there is dominated by luxury condos and ski chalets.
And without further ado, here are the top 10 most expensive neighborhoods in the U.S.
The 10 Most Expensive Neighborhoods in the U.S.
| | |
| --- | --- |
| Neighborhood | Average House Price |
| 1. Manalapan, Florida | $39,761,000 |
| 2. Palm Island, Florida | $27,624,833 |
| 3. Snowmass, Colorado | $23,568,750 |
| 4. Beverly Hills Gateway, California | $22,771,957 |
| 5. Port Royal, Florida | $22,032,667 |
| 6. Golden Beach, Florida | $18,659,412 |
| 7. Bel Air, California | $18,581,775 |
| 8. Southampton Village, New York | $16,719,714 |
| 9. Sagaponack, New York | $16,016,944 |
| 10. Trousdale Estates, California | $15,870,100 |
To see the most expensive neighborhood in your state, check out the full report. And if you're a serious homebuyer looking for a more affordable town, we've got you covered.