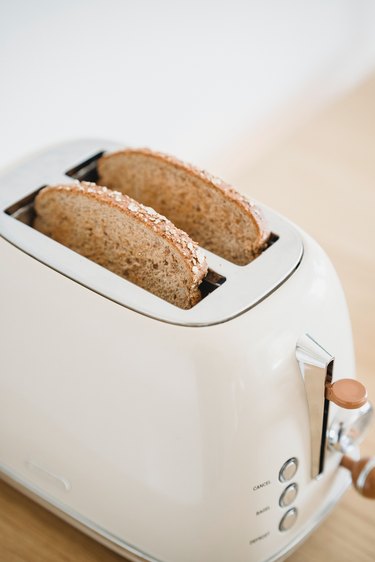 Although cleaning your toaster might seem unnecessary and annoying, it's essential for using the appliance safely. What's more, a hair dryer — yes, a ‌hair dryer‌ — is a crucial component of the task.
If you need proof, check out a recent TikTok by Melissa Pateras. In the vide0, she demonstrates how to properly clean a toaster, along with tips and tricks.
Before starting, be sure to unplug the toaster. If you recently used it, let it cool down completely before beginning the deep clean.
The first step is to clean the crumb tray from the bottom of the toaster. Simply toss out the crumbs, wash the tray, and let it air dry. This will prevent toast from accumulating in the tray, which can potentially start a fire.
Not to mention, the crumbs can also attract mince, as some people noted.
Next, while the crumb tray still out of the toaster, tip it upside down over the trash can to remove leftover crumbs. You could also use a hair dryer to dislodge any stuck pieces. Who knew?
Pateras then demonstrates how to remove burn marks from the top of the toaster. All you need to do is crumple up a ball of aluminum foil into a ball, rinse it under running water, then rub it on top of the toaster in a back and forth motion. The technique will also help shine and the toaster, which is always a plus.
Next, wipe down the appliance with a soft, damp cloth. Reinsert the dried crumb tray, and you're good to go.
If you felt inspired to deep clean your toaster after watching the video, you're not alone. "I cleaned my toaster right away and it [now looks] like ne," commented one TikTok user. "Me running to the toaster," said another person, adding a running man emoji.
See you never, dirty toasters.