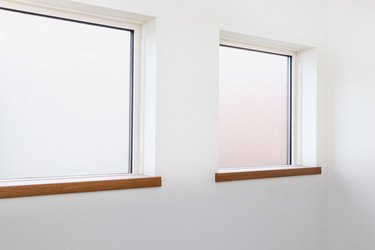 Frosted windows give you added privacy in your own home while still letting natural light in — sounds like a win-win to us. But if you're a renter or you just don't want to shell out the cash for a whole new window, frosted windows may seem out of reach. Don't worry, you still have options.
One option for DIY frosted windows (spoiler alert: we don't recommend it) that people are loving on social media right now is glue. Yes, regular ol' Elmer's glue. Creators are painting the glue on their windows for a frosted window effect. For many, it seems like it works well.
Others are using it to "etch" designs into their window.
But depending on how large your window is, you'll have to purchase a lot of glue to cover it. While individual bottles are inexpensive, this project can go up in cost quickly. Plus, glue isn't made to stick on windows, so you may have trouble with the application (we're seeing lots of streaky glass) or future removal of the substance.
Instead, opt for another solution for a DIY frosted window. Peel-and-stick frosted window film and Rust-Oleum's frosted glass spray are two products that will help you achieve the same look as glue, but they won't look sloppy or ruin your window. And they might be the cheaper solution in the long run.