Wax paper is a commonplace household item most of us use in the kitchen for food prep. But what if we told you that the powers of wax paper go far beyond those typical kitchen uses?
TikTok user @andrelifehack has dedicated their account to disseminating simple yet life-changing hacks that will blow your mind. In one of their more recent videos, wax paper is the star of the show. They demonstrate how you can tear off a piece of wax paper, crumple it into a ball, and use it as a handy tool for removing water residue marks from metal bathroom fixtures, like faucets and shower hardware, and even from glass.
Those pesky water speckles can be infuriating, and typical cleaning products don't always do the trick. But thanks to the texture of the wax paper, it perfectly removes those dried-up water traces. As for the wax part, it leaves the metal or glass surface shiny as can be. Who knew? Even @andrelifehack is in awe of how effective the ball of wax paper is.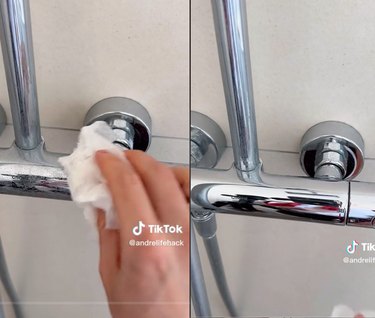 Of course, thousands of users have responded in the TikTok video's comments section with a range of reactions. "I'm 47 years old and have learned more from this app in the last two years than in my entire life," wrote one user. "Retail workers have been using wax paper in clothing stores for ages to shine up their apparel bars," offered another.
Other users mentioned additional household items that can be used in a similar way for cleaning surfaces. For instance, newspapers work great too and are particularly effective for cleaning windows. "A microfiber cloth does the exact same thing. No waste," added one TikToker.
We all know TikTok offers a treasure trove of handy hacks for all types of life tasks, and clearly, @andrelifehack is a user to keep tabs on for the best of the best.