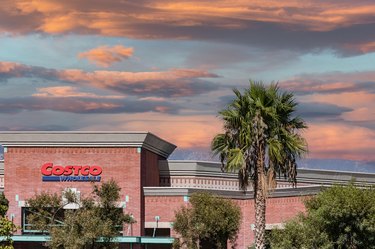 There's so much to adore about Costco: the awesome deals, the oversized baked goods, and of course, the free samples. And while the latter feature was, understandably, pulled at the height of the COVID-19 pandemic, it eventually returned with extra safety measures in place. But now? According to Costco shoppers, it looks like the sample system at Costco has changed once more.
In a recent Reddit post, user @simpleout shared a photo of a Costco sample station at a warehouse in Issaquah, Washington. The kiosk — which relies on the honor system for providing samples — contains individual bags of Mott's Fruit Snacks. It also features a "Free Sample" sign with "Take One" just beneath it. Next to the station, there are boxes of Mott's Fruit Snacks, similar to past sample setups.
Translation: At this particular warehouse, there are no longer employees handing out samples.
As you can imagine, Costco shoppers have mixed thoughts about the system. For starters, many are skeptical that people will only take one sample. Some even described it as the Costco version of the "take one" bowls on Halloween, which have a knack for being cleared out by one or two dishonest people.
Other shoppers are hopeful that the system will reduce crowding, as people won't have to wait their turn to grab a sample. Meanwhile, some shoppers didn't love the idea of kiosks replacing actual humans.
Several folks were quick to point out that Sam's Club has a similar setup. In fact, Sam's Club uses vending machines for samples, which require you to swipe your membership card to receive a product.
At the time of writing, it's unclear if the new sample kiosks will be installed at all Costco locations. After all, the station at the Washington location may be a test run. Only time will tell!