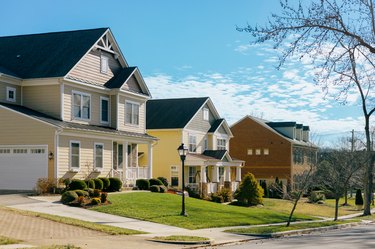 Silicon Valley Bank collapsed on March 10, 2023, when it was unable to continue to provide payouts for customers who wanted to withdraw their funds, sending shockwaves around the word as the 212 billion dollar tech-lender shuttered its doors forever.
SVB was one of three banks that failed in the month of March, making lenders and other financial pros a little more leery about what would happen next in the world of US banking. Given how similar SVB's collapse may feel to some mortgage lenders who survived the subprime market crash in 2008, there has been a lot of unease about exactly how all of this will play out in the real estate market, especially for buyers who are hoping to get ready to take advantage of the upcoming spring market. We talked to two financial experts to find out what effect these banking failures will have on those hoping to buy a house in the coming months and how they should start prepping for the changes.
The Banks Are Getting Bailed Out —But Borrowers May Not
The financial implications of the SVB fallout will likely hit the real estate market, according to Kimberly Jay, a broker at Compass. She says it's not unusual to see lenders tighten their own lending requirements whenever there's a shakeup in the banking system.
That means that even though SVB depositors are getting their money back thanks to FDIC protections, borrowers will ultimately be the ones paying the price of the failure due to significantly more intense credit requirements when it comes to applying for a mortgage. "When banks fail, there is often a reduction in the availability of credit, as other banks may become more risk-averse and reluctant to lend money," she explains. "This could make it harder for people to obtain mortgages, especially those with less-than-perfect credit scores and those who relied on these banks for relationship banking."
Just exactly ‌how‌ lending standards tighten may vary depending on the lender and the market conditions, however Jay says that generally speaking, lenders may become more cautious when evaluating debt-to-income, loan-to-value, credit scores, and documentation.
What Borrowers Can Do Now
If you're someone who has been hoping to make a real estate purchase in the coming months, you may find less favorable lending conditions, or even an inability to get a mortgage approval through your bank. For those who were already struggling with a less-than-squeaky clean credit history, lower income, or small deposits, this could put a mortgage approval out of reach all together.
However, Jay says that even if the worst happens and banks do some serious belt tightening, all isn't lost for anyone who has the ability to make short term changes that offer a big payout. "All buyers should focus on increasing credit scores, increasing savings, and steady employment," she says.
Jay also suggests speaking with multiple mortgage lenders sooner than later to understand exactly what changes you may ned to make to qualify.
Things May End Up Working Out Sooner Than We Think
While all of this sounds a bit scary, Melissa Cohn, Regional Vice President at William Raveis Mortgage, says that banks may move away from any "crisis mode" they enter into fairly quickly. "There are plenty of banks who are lending today with business as usual," she continued, pointing out that the stock market rallied again on March 21 and that bank stocks went back up, including some belonging to troubled banks. "The Federal government is going to do everything it can to contain this banking crisis."
Stick With The Names You Know
Even when banks like SVB experience a catastrophic failure, not every lender will be feeling the pinch. "Most likely to avoid feeling the pain are the big box banks, credit unions, and regional banks, which have a broad depositor base," Cohn says, adding that banks that only focus on a specific type of client (like the wealthy, technology based, or crypto) are the ones most at risk.
"I remind my clients that when they take out a mortgage, they are getting the bank's money and not giving their money to the bank," she says. "I would steer clear of any bank that requires deposits other than opening a checking account for the monthly mortgage payments."
She gives banks like First Republic as an example, saying that they require that a borrower deposit 15 percent of the loan balance in the bank for life. "You should keep where you get your mortgage separate from where you deposit your savings."
Whether lending requirements fluctuate due to the March banking crisis still remains to be seen, but as for now it looks like whatever happens may only be a speed bump for anyone looking to buy a new home in the next few months.