Singing in the shower just hits differently when music is blasting from a nearby speaker, don't you think? Now, thanks to IKEA, you can put that empty glass you use to amplify sound from your phone back in your cupboard. The furniture brand recently announced that they are releasing a waterproof speaker, perfect for your home, on-the-go, and yes, in the shower.
The Vappeby portable Bluetooth speaker is very compact, easy to use, and is available in three colors — black, yellow, and red. It can connect to any Bluetooth-enabled device, including phones and computers, and will even pair with another version of the same speaker. If kept at 50% volume, the device will stay charged for 80 hours.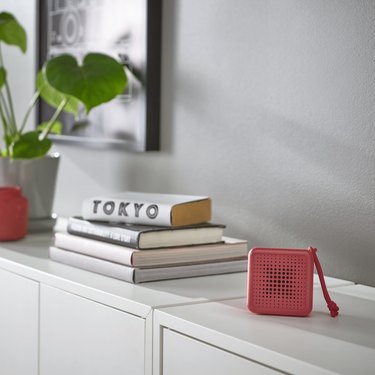 Since Vappeby is waterproof, this makes it the perfect speaker for your bathroom. You don't need to worry about it getting soaked in your shower or even the tub, since it can withstand being submerged in water for up to 30 minutes. Perfect timing with summer around the corner as well! Did somebody ask for poolside tunes?
"The speaker was designed with simplicity and clear functions in mind, making it a very user-friendly solution," Stjepan Begic, product design developer at IKEA of Sweden, says in a press release. "We hope customers will embrace the speaker, and we hope it adds value to their lives by enabling them to enjoy sound experiences from anywhere".
IKEA's new waterproof speaker will hit stores in April.