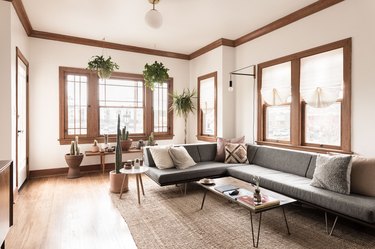 If you're a renter, you're probably well aware of how rough it can be to search for a new home, especially if you live in a hot rental market. Not only is the process time-consuming (and often competitive), but it's also very difficult to find the exact space you're dreaming of. And renters don't exactly have the freedom to make major renovations, which makes finding the perfect place all the more challenging.
Enter Zillow. The site was already a go-to for apartment seekers across the country, but it has now taken things to a new level with interactive Unit Maps. Zillow's newest tool allows apartment hunters to see exactly where available units are in a building before going to look at them in person.
Our favorite part? Unit Maps show the view of the exact unit you're interested in. This way, you can see if it's facing a shared outdoor space, like a garden or pool; or if it has a street or city view. It's like SeatGeek for apartments!
"For renters that have specific preferences like wanting a nice view or being away from the busy elevator bank, Unit Maps are a major time-saver," says Michael Sherman, vice president of Zillow Rentals.
No more booking in-person tours (or paying unnecessary early application fees) only to walk in and immediately hate the location.