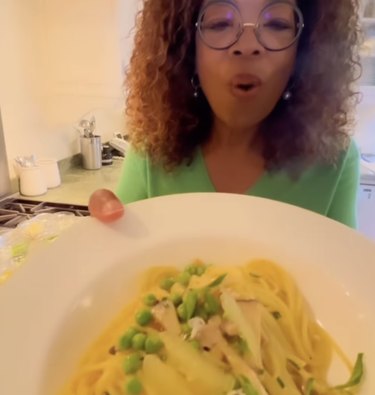 When it comes to life advice, there's no one better to turn to than Oprah Winfrey. And as spring is beckoning all of us to lighten up our homes, our routines, and even our meals, Oprah has a fresh, new recipe for us all to try. She recently shared to her Instagram that her chef, Philippe Chevalier, uses a secret ingredient to keep one of her favorite lemon pasta dishes free from cream and butter, while still being equally delicious.
What is the secret ingredient to butter-free lemon pasta? Oatmeal! In the video, Chevalier has a small pot of oats on the stove, and he strains the water from the oatmeal into a Pyrex measuring bowl. The water is essentially oat milk, and he uses it in place of cream. Brilliant!
Chevalier adds olive oil to a pan and sautés mushrooms, shallots, garlic, and a sprinkle of thyme before adding the secret ingredient. Once the oatmeal water is in the pan, the starchy liquid mixed with Parmesan cheese creates a creamy sauce that made Oprah exclaim, "I can't believe there's no cream in it!" upon trying the dish for the first time. Finishing touches for this easy recipe include peas, basil, chives, and of course, lemon. Cooked spaghetti is added to the pan and coated in the butter-free sauce, ready to serve.
The video ends with Oprah doing a happy dance and holding her bowl of pasta, savoring each bite. "I love it so much," she says, smiling. To try this pasta dish yourself, you can find the full recipe here.