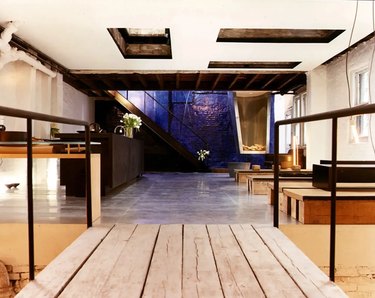 Waterfalls are one of the world's great unifiers that most can agree are pretty great. Symbols of peace, tranquility, and escape, you would have to be an extreme hater to come out against any type of waterfall — until now, that is.
Waterfalls are wonderful, but they have their time and place: outdoors, for example. Alas, @zillowgonewild has revealed that there is a building in New York City on the market right now that features an actual waterfall that pours out of one of its beds. Make it make sense!
The building that houses this waterfall bed was built in 1920 as a former dental factory that even had a carriage house. It was entirely gutted to make way for its next chapter, though few could have predicted just how ridiculous and impractical that next chapter would be. The building has since been reimagined as a Greek Revival-designed structure that's split into three distinct, one-of-a-kind lofts.
The Zillow listing describes the first-floor unit as a "lab loft," with puzzling features such as a bridge, a moat, and a cantilevered second story in addition to the aforementioned bed waterfall. The ground plan consists of a studio office in the front and a living area in the back, which are separated by a "drawbridge" walkway that overlooks the library. The second and third floors of the building are a bit less eccentric, with each featuring an open-air rooftop, a terrace, and a fireplace.
This five-bedroom, five-bathroom, 6,500-square-foot conundrum is going for a cool $7.5 million. The question is: Who will take the plunge? (Pun certainly intended.)