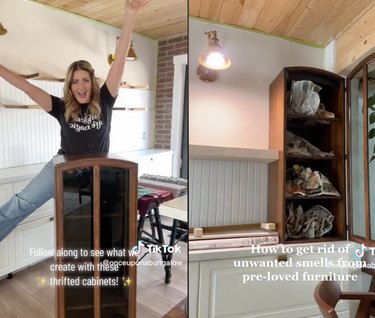 There's no better feeling than thrifting a beautiful piece of furniture from a mom-and-pop secondhand shop or your neighborhood Goodwill. Yet, all too often these finds can have one major drawback: their smell.
Just because the price is right doesn't mean the stench is. But what should you do? Leave the smelly antique credenza behind that's being sold for just $20 at the consignment shop, or buy it anyway and risk your entire home smelling musty? Thanks to this handy hack on TikTok, you don't have to decide!
TikTok user @onceuponabungalow is all about sharing her design and DIY journey on her account, and in one of her recent videos they reveal a simple trick that removes an unsavory smell from a set of cabinets they found at a thrift store. The hack is as easy as crumpling up a bunch of old newspaper and placing all of it inside of the cabinet.
"After trying many things and having nothing work, I was getting discouraged. But this worked!" she shares with delight as they demonstrate removing the newspaper from the cabinets.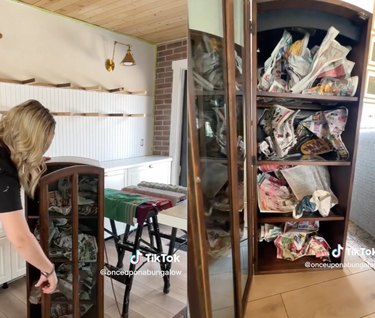 We're not the only ones excited by this revelation. Commenters on the TikTok voice their success with the newspaper method as well. Some have even responded to the post with other tried-and-true techniques for removing odors from old items. User @here_for_fun_and_more says, "I've used kitty litter in a pan. Just sit it inside and it will pull out the odor." Another, @shannongingeorgia, replies, "Literally, coal works magic, too!"
So the next time you go thrifting, just be sure to stop at the newsstand beforehand to stock up.