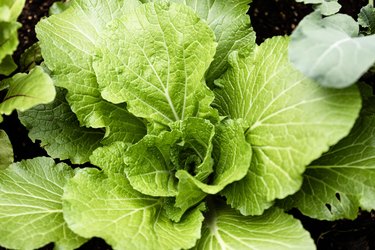 Food waste is a huge problem all over the world. According to Feeding America, approximately 40% of all fare in the United States is wasted — which is equivalent to 130 billion meals. More scraps ending up in landfills is impacting climate change more and more with each passing day. Even with all this trash, it's estimated that 828 million people are impacted by hunger. However, there are certain steps we can all take individually to combat such a serious threat to our world.
TikToker @thegreenhub1 is all about zero-waste living and has decided to share a few tips for making food you already have last longer. Produce is typically a big culprit, as fruits and veggies perish quickly, particular leafy greens, but this hack can keep your produce fresh for up to a week longer.
According to the creator, all you need to do is place your greens inside a damp produce bag or wrap them in a damp tea towel. Place the cloaked greens into the vegetable drawer of your refrigerator and they should crisp back up in no time.
The TikToker also showcases a red bell pepper that is getting a little bit wrinkly, so they decide to roast it with some garlic to create a dip. Cooking raw vegetables once they begin to deteriorate is another great way to combat waste. Some commenters even suggested freezing your produce for later use in soups and sauces.
These small changes will go a long way in ensuring we have a safe and healthy planet — more so than you may think.