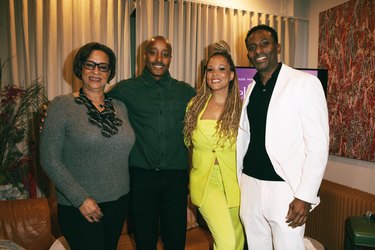 For Black History Month, we are highlighting the people and projects you should know about all year long.
In honor of Black History Month and for our Black Spaces programming, Hunker hosted a "Celebrating Black Culture in Design" panel at Hunker House on Abbot Kinney Blvd in Venice, California. Moderated by DeAndre DeVane of well-designed, the panel featured interior designers Adair Curtis and Breegan Jane, and architect Gabrielle Bullock, who recently worked on nearby art and culture hub Destination Crenshaw. The conversation focused on exploring Black culture, its influence on design, and its legacy.
Though there were countless takeaways from this discussion, here are a few key points that are important to keep in mind — not just for Black History Month, but all year long.
1. There is no one "Black aesthetic."
When discussing what "the Black aesthetic" means and why the phrase is problematic, Bullock stated, "The stereotypical response and dialogue [around the Black aesthetic] has always been Africa-based only, as if we are a monolith."
"I cringe at [the phrase] 'the Black aesthetic,'" Curtis added. "I don't think you can say ‌the‌ Black aesthetic and land on a definition because 'the' makes it monolithic and we're not. There are so many things that constitute what is part of ‌a‌ Black aesthetic."
2. Much of Black history is still untold.
"I think Black history is so exciting and so untold ... but I also think that the story right now wants to be told in that positive light of stories that were hidden," Jane explained. "And a lot of times Black history conversations become about white history or struggle, but there is so much we want to highlight."
Perfect example: At the start of the panel, Jane shared a KCET video outlining the often untold story of the Black community's significant part in making Venice's Abbot Kinney Blvd, where the panel took place, what it is today.
3. Representation in our spaces matters.
"[In my grandparent's home], there was representation of other Black people all over the house — on the walls, in the artwork, on consoles, in pictures," said Curtis. "That's what I bring with me to projects and what I want to see. Just seeing representation in our spaces is what I bring ... That's why representation means so much to me."
Jane echoed Curtis' thoughts, but revealed that she has a different perspective on representation. "I am a Black child with two white parents," she explained. "I was adopted. Lucky for me, I had a mom who was like, 'We are going to every Black history museum that ever comes through L.A.' It was amazing, but ... seeing myself was always an extra effort in seeking out who I could maybe see myself to be. As a mom of two young boys, I find that that challenge is way less. We have two yoga books with Black kids on the front in om positions saying, 'I love myself.' I think that representation of who you can be is so important for anyone, from any culture, from any background."
4. Black joy is significant and needs to be celebrated.
"'Black joy' is a phrase I've struggled with until recently," Jane said. "We have fought so hard, generationally, to create moments of opportunity for ourselves. We have done it with smiles and grace and great fashion and great design. That is what I'm attaching myself more to with 'Black joy.'"
"[Black joy] is not anything else besides that historically we've been oppressed," Curtis noted. "And it's not the same as my grandfather, my great-grandfather, or my great-great-grandfather. The fact that we have these moments where we celebrate just being, being happy, and smiling, as a Black man in 2023, we do have to take that time to highlight and celebrate where we are today. There's still so much work to be done, but we do need to say that Black boy joy, Black girl joy, and Black joy in general is a thing and we get to just be happy and smile."
5. Others must be invited in to the conversation.
"Particularly around architecture and interior design, we have to invite others in," Bullock said. "We have to be intentional and deliberate in broadening those who would even consider design as a career. We have to go get them because this is not something that is broadcast by an elementary, middle, or high school teacher in the inner city."
"It wasn't a Black person who introduced me to design," stated Curtis. "I'm grateful to the people who shepherded me into the industry, but like you said, we have to go get people and show them that we exist and there are these opportunities that exist."