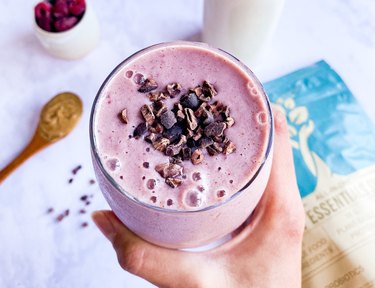 Smoothies are a healthy way to start off the morning, and they can also serve as a refreshing afternoon treat. However, if you've ever had a smoothie packed with nutrient-rich fruits and vegetables, you may have noticed that you get hungry pretty quickly afterward. This is why people have taken to adding protein powder and other protein-rich foods (like nut butters) to their smoothies to remain satiated longer. But if you don't want to use powders or oily butters as a protein source all the time, one TikToker came up with a surprising hack that we wish we would've thought of first.
Creator @stephgrassodietitian decided to add canned beans to their smoothie to stay full longer — and to add some extra fiber. The dietitian first dumps their beans of choice into the blender before topping them with mango, mixed berries, and coconut water.
"Not only do they have a mild flavor that can be easily masked by other ingredients, but they also provide a smooth and creamy texture," they wrote in the caption. "Plus, they're loaded with protein and fiber to keep you satisfied for hours. And the best part? It's a great way to prevent food waste by using up those leftover canned beans in your fridge! Try black beans for a chocolate/peanut butter smoothie, chickpeas for a green smoothie, or white beans for a neutral option that pairs well with anything."
Commenters' jaws were on the floor after learning about this unexpected smoothie ingredient, and some even swooped in with their own suggestions. "I love adding silken tofu to my smoothies," wrote one user, while another suggested, "Works in soups and pasta sauce too! Great for kids."
In our opinion, this hack is absolutely genius.