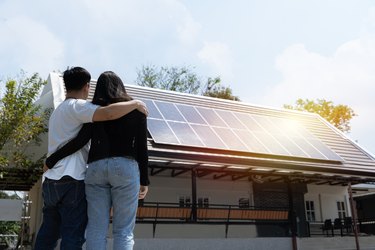 With the threat that climate change poses to our future, finding ways to lessen our carbon footprint can be as simple as cutting down on single-use plastics, walking or biking to places instead of driving, and following the old adage "reduce, reuse, recycle." However, there's another option that may have a drastic effect on our individual and collective impact on the planet, and that's choosing to live in a community microgrid (or microgrid community). In addition to environmental advantages, a community microgrid lifestyle can come with financial benefits too.
What Is a Community Microgrid?
According to the U.S. Department of Energy, microgrids are "localized grids that can disconnect from the traditional grid to operate autonomously." Essentially, a community microgrid is an area that is powered locally by a clean, renewable energy source that may or may not be connected to a larger conventional grid.
Traditionally, electricity is generated at a central power plant and is then distributed through a grid of long-distance power lines to homes and businesses (and this is how an electrical circuit typically works). A community microgrid does the same thing except it is a smaller, self-contained power system that uses a source of renewable energy, like solar or wind power. Microgrid communities can be as small as a few houses or as large as an entire neighborhood.
Choosing to live in a community microgrid can be a big step toward being more environmentally conscious. If you're curious to know more about what it's like to make the shift to renewable energy, read on for just a few community microgrid benefits.
Community Microgrid Benefits:
1. Reduced Energy Costs and Usage
"There are many benefits to living in a microgrid community, including reduced energy costs and carbon emissions," Dan Bridleman, SVP of sustainability, technology, and strategic sourcing at KB Home, shares with Hunker. "In fact, these innovations can help homeowners decrease energy usage by 40% compared to a typical new home."
Clean energy communities are very slowly popping up all over the country, including in Menifee, California, where KB Home recently launched two all-electric, solar, and battery-powered microgrid communities — the first in California — in partnership with solar solutions company SunPower, the University of California Irvine, the U.S. Department of Energy, Southern California Edison, Schneider Electric, and Kia. Every home in these communities comes equipped with connecting solar panels, a solar-powered battery, and connection to the community's battery.
When the sun is shining, each home generates its own electricity, which reduces or even eliminates the need to be connected to a traditional grid. When your home's energy is coming from your own solar system, your reliance on a traditional grid diminishes greatly, and in turn, so do your utility bills. In the long run, solar energy can be much more cost-effective, especially as the price of electricity rises.
2. Protection During a Power Outage
According to a recent study by Climate Central, 83% of reported power outages in 2020 and 2021 were due to weather-related incidents. A major draw to living in a community microgrid is not needing to rely on a regular power grid. A powerful example is Babcock Ranch, a solar-powered community near Fort Meyers, Florida. As Hurricane Ian ravaged the state, leaving millions of Floridians without power, Babcock Ranch's utilities remained working, and the community kept electricity, internet access, and water.
"With blackouts on the rise and energy costs increasing, new homebuyers are demanding more resilient, energy-efficient homes," Matt Brost, vice president of sales, new homes, at SunPower, tells Hunker. "These connected communities [in Menifee, California], are sustained by a first-of-its-kind microgrid powered by SunPower solar panels, SunVault battery storage, and a community battery," Brost explains, adding that all of these are essential in case the neighborhood loses power.
In the event of a power outage, a community battery sends energy to homes in the community microgrid while each home's individual battery also kicks in. Both sources of energy can keep essential electrical functions running, like lights, Wi-Fi, and refrigeration, even amidst a blackout. As long as the sun is out, individual batteries and the community battery can continue to charge and be used until the traditional grid returns.
3. Less Environmental Impact
Clean, renewable energy is good for the environment. Living in a community microgrid means your home's carbon footprint is much less than a traditional home that primarily relies on electricity generated from natural gas, coal, and oil. Living in a home that is powered by renewable energy can slow climate change and helps conserve our natural resources. But even if you don't have access to a microgrid community in your area (they are still few and far between), there are still steps you can take to reduce your home's carbon footprint.
"While microgrids are the vision, we are seeing exponential growth in nanogrids," Brost says. "In a nanogrid, each home has its own solar-powered energy storage system; in a microgrid, you have a shared community resource or both. In either case, homeowners experience the benefits of energy resilience while also helping stabilize the utility grid."
Buying or moving to a new home is an exciting time, and if sustainable living is top of mind, looking into communities powered by renewable energy is absolutely worth considering. "Microgrids and nanogrids offer more affordable and reliable energy for homeowners," Brost shares. "They offer real solutions to the climate crisis and the increasing demand for electricity from an aging utility grid."