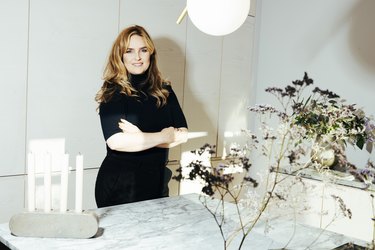 Across industries, there's a push to go green: to incorporate green practices, to create green products, to live a green life. But what does going green look like when it comes to interior design? That's what FÓLK Reykjavik is figuring out.
Founded in 2017 by Ragna Sara Jónsdóttir, FÓLK is an Iceland-based design company that partners with local designers to create homeware and furniture that has a minimal impact on the environment, namely through the pursuit of circularity. And it wants to help consumers understand exactly what that means.
After working in Copenhagen as a corporate social responsibility and sustainability consultant, Jónsdóttir moved back to her homeland, Iceland, and set out to build a home. "I noticed the absence of both focus on sustainability and transparency of the design products offered in the design stores," she tells Hunker. "I really wanted to buy products for my home that were good for the environment and explained to me as a consumer how they did it."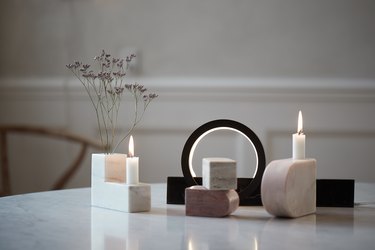 The best way to understand a product's impact is to study its environmental footprint, which is evaluated through a life cycle analysis, or LCA. Of course, that's not necessarily something a consumer can do on their own, so Jónsdóttir and FÓLK have done the heavy lifting with their products.
"One of the most important factors of decreasing the impact of products is if they can be made to last longer because products that last for a short time tend to have the biggest environmental costs, both due to the material use and their end of life," says Jónsdóttir. She notes that other issues with products relate to their carbon dioxide footprint, which includes emissions from all points throughout the supply chain as well as the waste from production.
A solution to these issues is pursuing a circularity in production — what Jónsdóttir describes as "taking action in your supply chain to continue to use materials rather than disposing of them as waste." In the case of FÓLK, circularity is achieved in two ways: inputting waste or leftover material into the product design and ensuring the individual parts of the product can be reused or recycled when the product reaches the end of its useful life.
"Current numbers show that our economies are less than 10% circular and more than 90% linear, meaning that our resources are only used once before they end in a landfill or are burned," says Jónsdóttir.
Here's an example of design circularity in action. One of FÓLK's newest products is The Airbag, a round throw pillow made from recycled car airbags. "The Airbag design came out of a conversation with a car part dealer, who told me she wanted to increase the materials from scrapped cars that she could resell and save from the scrapyard," says Jónsdóttir.
FÓLK then tapped local design firm Studio Flétta to see what car parts might be able to be turned into homeware. "The designers found the airbags in scrapped cars, and surprisingly, this car part that luckily most of us never see is made of beautiful pastel-colored textile, even with embroidery in some cases," says Jónsdóttir. That textile formed the pillowcase, but the filling too is upcycled — the outdoor brand 66°North provides FÓLK with leftover filling material from its own products.
"To be successful in realizing our vision, we have to build partnerships and collaborations for change. We need designers, producers, retailers, and consumers to take part in the transition to make it happen," says Jónsdóttir. "It is a lot of work, but it is very satisfying when we are successful."